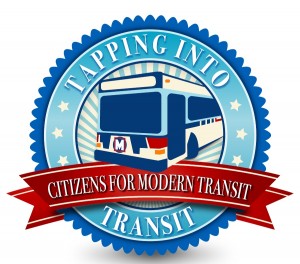 Join us for our next Tapping Into Transit Happy Hour on Tuesday, November 5 from 5:30 – 7:00 PM at the MX Movie Theater Bar, where we will get to meet and visit with Astrid Glynn of the Transportation Planning and Research Group in Massachusetts.  Ms. Glynn will be participating in CMT's breakfast discussion about TOD funding on Wednesday, November 6, but this will be a special opportunity for us to visit with her, hear a bit about her wealth of experience and knowledge, and ask questions that pertain to transit funding and more.
Ms. Glynn spent over a decade in the Massachusetts Executive Office of Transportation, with charge of capital planning, transit/rail programs, and transportation planning. Before leaving Massachusetts she also served as Deputy Secretary in the Office for Commonwealth Development – the "supersecretariat" that was created to link transportation, housing, and environmental policy/programs. She then spent two years as Commissioner at the New York State Department of Transportation before returning to Massachusetts and helping to start the  Transportation Planning and Resource Group (TPRG). In short, she has chased money for transit in a lot of places and for a lot of projects.
We hope you will join us!  Please RSVP with Lenora Fisher @ lfisher@cmt-stl.org.