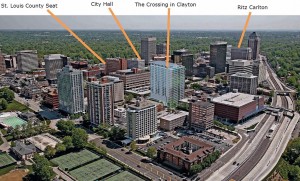 The Crossing in Clayton will be a 24-story luxury apartment tower with 255 rental units adjacent to the Clayton Central Avenue MetroLink stop.  The $350 million dollar development aims to offer an urban setting near transit that attracts professionals, corporate travelers, and students seeking the flexibility and advantages of renting.
GTE Properties, a Chesterfield-based real estate firm will break ground on the project in 2014 and initial occupancy is scheduled for January 2016.  The development site is bound by Meremec Ave. on the west, Bonhomme Avenue on the north, and Central Avenue on the east.  The site is ideally situated by the MetroLink and adjacent to Forest Park Parkway, a 1/4 mile east of I-170 and approximately 20 minutes from Downtown St. Louis to the east and the Airport to the northwest.
CMT is thrilled to see developers in the region realizing the economic benefits transit provides and building strategically around the system.  We hope to see more developments planned around our transit stations and encourage designers of the properties to build this development with walk-ability and transit use in mind.
CMT has worked extensively to help the region understand the benefits of Transit Oriented Development (TOD) and has developed a clearinghouse of information to help different audiences in the region think about TOD and its potential for the region.  Please find a few helpful links below to some of the resources we provide and think about what amenities you want to access using transit: