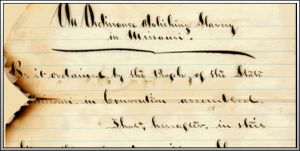 The Ten Toe Express Kick Off Walk originally scheduled for April 3, 2014 has been rescheduled!  The walk on April 3rd was cancelled due to severe weather forecasts.  New RSVPs are required and the details are below.  We hope to see you there!
NEW DATE! – Ten Toe Express Spring 2014 Kick-off Walk – National Park Services' African –American Heritage Tour
When: Thursday, May 29
Time:  9:00 am
Where to meet CMT: Street Level of 8th & Pine MetroLink Station
Length of Walk: 2.5 miles, approximately 3 hours at a moderate pace
RSVP Required – info@cmt-stl.org or call 314-231-7272.

Are you familiar with the cultural and historical contributions of African American's on St. Louis and the Nation?  Join us for this guided downtown walk developed for the National Park Service by Dr. John Wright, author of the book Discovering African American St. Louis and learn about the city from the African American perspective throughout history.  Dr. Wright developed the walking tours around the important events and personalities surrounding downtown St. Louis.  A guide from the National Park  Service will lead us through the tour stopping at points pertinent to St. Louis history.  Stops on the walk will include the city jail, the first high school for colored students, and Harriet Scott's death site.  We will walk from the MetroLink Station to the Old Courthouse where the tour begins.  The tour has been planned so that food and refreshments will be available for purchase at the midpoint of the tour.  We hope you will enjoy learning a bit about the region's history from a distinct cultural and historical perspective.
To RSVP, Contact CMT at 314-231-7272 or by e-mailing info@cmt-stl.org.