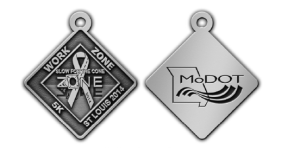 MoDOT Release:  As everyone reflects on 2014 accomplishments and prepares to make 2015 resolutions, the time seems appropriate to ensure you know that registration is open for 2015 Work Zone Awareness 5K.  Our St. Louis Fit for Life team, along with sponsoring partners, will host the second annual Work Zone 5K Run, Walk and Fun Run on Saturday, March 21st.  Register to participate or volunteer now!!
This event will:
Enhance the fitness and health our employees and their families
Create awareness of about the dangers of work zones and honor those workers who have lost their lives in the line of duty
Have a great MoDOT family friendly morning
This event is open to employees and their families & friends and the public.  Last year this event attracted almost 250 participants.
Register for this event today at : http://www.fleetfeetstlouis.com/racing/highlighted-races/modot-work-zone-5k