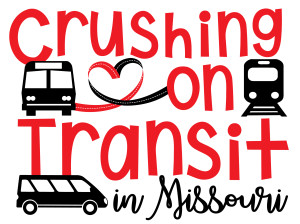 In conjunction with Valentine's Day, the Missouri Public Transit Association (MPTA) and Citizens for Modern Transit (CMT) are encouraging Missouri residents to express why they love public transit through a "Crushing on Transit" social media campaign.
"Some Missourians rely on public transit to get to work, to gain access to much-needed goods and services, to save money, or as a more convenient means to get to games, concerts and festivals" said Kimberly Cella, executive director of both the MPTA and CMT. "Yet for others, it is the only form of transportation they have access to, and without it, they would be homebound.  Whatever your reason – we want to hear about it. And, prizes are up for grabs."
From Thursday, Feb. 1, until 11:59 p.m. on Wednesday, Feb. 14, individuals can visit MPTA's Facebook page or CMT's Facebook page and post an explanation as to why they, personally, are "Crushing on Transit." Those interested can also Tweet to CMT using the handle @CMT_STL or MPTA using the handle @MOPublicTransit. Including a photo of yourself utilizing public transit is strongly encouraged, and be sure to use #MOCrushingOnTransit when posting.
Those who post to one or more of these sites during the two-week campaign timeframe will have their name entered once in a prize drawing. Three names will be drawn at random on Thursday, Feb. 15, at noon, and those individuals will receive a Visa Gift Card in the amount of either $100, $50 or $25. The money can be used at the winners' discretion, however, CMT and MPTA will be encouraging the winners to use it at restaurants, stores, entertainment venues and other establishments that are accessible via public transit.
This campaign is in no way sponsored, endorsed or administered by, or associated with, Facebook or Twitter. Winners will be notified via social media. MPTA and CMT will also be using the campaign period to raise public awareness about the benefits of public transportation as it relates to individuals, businesses, economic development and more.