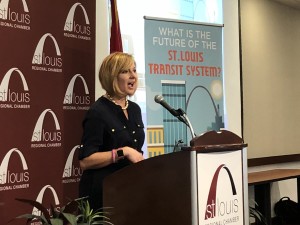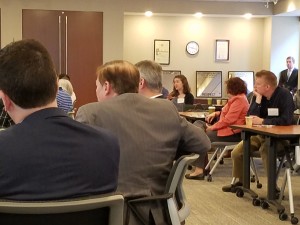 Citizens for Modern Transit & the St. Louis Regional Chamber hosted an update on the Metro Reimagined Study underway looking at a redesign of the St. Louis transit system to meet the needs of the changing community on April 27 for CMT members, stakeholders and interested citizens.
Metro recently completed their analysis of the current MetroBus system as part of the 15 month study.  The Metro ReImagined project, which kicked off in April 2017, is a 15 month study that not only looks at where people travel in the region, but why they travel and how they want to get there. The study will also evaluate the potential of new technology and innovative transit concepts – from new vehicles to new service options.
Prior to the study update, CMT Executive Director Kim Cella outlined some of the security updates that have occurred on the system since the signing of the Memorandum of Understanding in May 2017 by the regionally elected officials and Bi-State to improve safety and restore public confidence in the system.
Cella highlighted the following accomplished since May 2017 or in the works:
Increased enforcement, increased officer presence, and a reduction in Metro customer service complaints. For example, St. Louis County police are reporting a reduction of 70% in Part 1 crimes over prior year.
Expansion of the number of officers in the MetroLink Unit from 40 to 69, a 72 percent increase in less than a year.
Expansion of patrols by St. Louis County Police  to increase coverage of St. Louis City Stations.
Formation of a Joint Task Force of law enforcement to delineate and educate law enforcement from the three jurisdictions along with security staff from Metro Public Safety Department, on the specific responsibilities and duties for each level of public safety.
And, the creation of a new headquarters on the alignment for the MetroLink law enforcement unit.
Since that last public update, a lot more has been accomplished or is in the works.
Both CMT and Metro began offering transit riders free, one-year access to the Smartphone app, Safetrek.
Initiation of an environmental design/security audit through East-West Gateway to look at access control on the St. Louis system. This study is set to kick off on May 1.
Developing  a pilot access control demonstration project which will be implemented at strategically selected stations.
Enhancing of an existing Bi-State "Ride and Abide" policy to deter riders who have committed certain crimes from entering or remaining within Metro property or territory.
Introduction of an Ordinance in the City of St. Louis to allow St. Clair County Sheriff's Deputies to provide aid at stations within the City of St. Louis.
"Transit safety and security is a priority for many in St.  Louis. There is no one tool, but many stakeholders and groups are spending significant time and resources to help ensure a safe, secure ride for all users – whether they ride every day or just to an occasional Cardinals game in Downtown STL. W Each of these steps is a step in the right direction, but we're still short of the finish line. As we move forward, we are asking elected officials to hold their individual law enforcement agencies and Bi-State its employees accountable to the recommendations outlined in the MOU. This commitment requires complete cooperation to help ensure the safety of riders," said Cella.
Following the security update, Jessica Gershman, Manager of Long Range Planning for Metro, presented the findings on the proposed plan based on a  year's worth of work.
This proposed plan includes:
More frequent MetroBus service, with high-volume routes having 15-minute or better service throughout the day and most other routes with 30-minute service
A simpler, easier-to-understand network with MetroBus service designed to provide riders with faster, more direct trips
New technology, including a text-messaging service customers can use to directly contact Metro Public Safety or Metro Transit Information, an email/text subscription service so riders can instantly receive Rider Alerts and other transit news, and a new mobile ticketing option
New community mobility options, including shuttles and on-demand services
The proposed plan also focuses on customer service and brand perception.  Metro plans to use South West Airlines as a brand example when considering making communications and customer service improvements.
According to Gershman, one goal with this plan is to reverse the decline in ridership with these improvements to the efficiency and frequency of the system.  An emphasis in customer service, and utilizing new technologies such as the smart card, are also in the works to bring transit riders back.
For more information or to weigh in, http://www.metrostlouis.org/reimagined/