From St. Louis County release June 28, 2017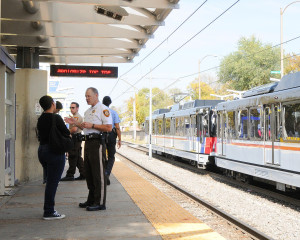 The MetroLink law enforcement task force, a joint effort to improve MetroLink security that includes officers from St. Louis County, the City of St. Louis and St. Clair County, Illinois, as well as Metro security personnel is already having a positive impact in reducing crime on MetroLink.
"Since the task force started work, we have seen a 50 percent drop in Part One crimes on the trains in St. Louis County," County Executive Steve Stenger said. "And Part Two crimes are down by about 40 percent. These reduced numbers reflect better enforcement and the impact of greater police presence on the trains."
Part One crimes are the most serious crimes, including offenses such as robbery and aggravated assault. St. Louis County Police reports indicate there were four Part One crimes committed on the trains in April. Only two were reported in May and two in June.
Part Two crimes are considered less serious, with offenses like disorderly conduct and trespassing included in the category. County Police records indicate there were 36 Part Two crimes in April. This number rose slightly to 38 in May, but dropped to 21 in June.
The task force is a key element of a plan to improve MetroLink safety developed by elected leaders and top law enforcement personnel from all three jurisdictions that MetroLink serves. County Executive Stenger, St. Louis Mayor Lyda Krewson, and St. Clair County Chairman Mark Kern agreed on the plan and last month Bi-State Development officials also agreed to the approach. Shortly afterward a memorandum of understanding (MOU) was signed by all parties involved. That MOU spells out what each entity is committed to implementing and moving forward with the plan.
The plan focuses on a unified law enforcement command with greater officer presence and controlled access to the system. A single operational commander, a St. Louis County officer, leads the task force. Rail-related safety and contract security will report to a St. Louis Metropolitan Police officer. The number of officers dedicated to MetroLink from each jurisdiction is increased and there are already enhanced patrols by uniformed officers.
"In addition to patrolling on and around MetroLink, St. Louis police are conducting undercover patrols on all trains," said St. Louis Mayor Lyda Krewson. "The St. Louis Police Department has also assigned Lieutenant John Blaskiewicz to coordinate the department's MetroLink security with St. Louis County and St. Clair County. The City of St. Louis will prosecute 'no fare' citations through the municipal court process to encourage fare compliance from all MetroLink riders."
Progress is being made on all elements of the joint security plan. Work is nearing completion on the task force headquarters building located at the Delmar MetroLink stop near Washington University. Some meetings have already been held there and full operations should be moving there within a few weeks.
Steps are being taken to implement cross-deputization, so that officers from all jurisdictions will be empowered to enforce the law regardless of where they are on MetroLink. Work is under way to upgrade and consolidate the security communications system, including emergency response communications and a common radio frequency for all law enforcement officers and security personnel.
"Safety and security is the primary focus of any government," St. Clair County Sheriff Rick Watson said. "MetroLink is a tax supported entity and leaders across the region are concerned for the riders and economic investment. Law enforcement leaders have pledged to provide a safe environment for patrons, working together we will accomplish our goal."