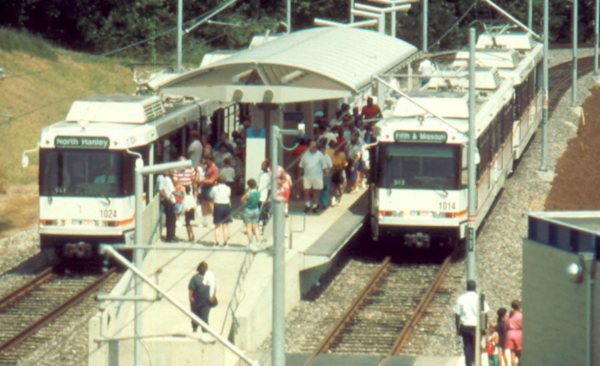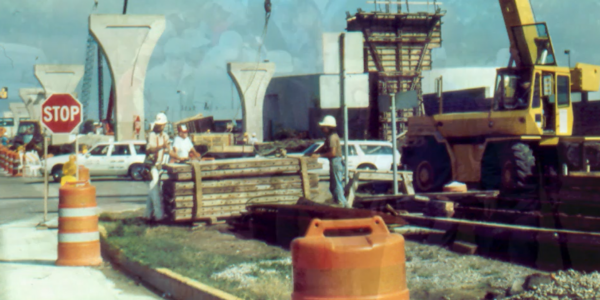 MetroLink's 30th Anniversary is right around the corner on July 31.  From the moment MetroLink hit the rails in 1993, ridership exceeded forecasted expectations.
Today, St. Louis has 46 miles, 38 stations and an extension to MidAmerica Airport under construction.
While we have seen transit face challenges post-pandemic, we are also seeing ridership beginning to increase again. Voters in this region have shown their support for transit as well, supporting transit in 1993, 1994, 1997, 2010 and again in the City of St. Louis in 2017.  Since MetroLink's opening, billions in new development have been tracked within a ½ mile radius of the system. Celebrate 30 years by taking a ride this Monday and let us know why you think MetroLink and transit are important to the region at info@cmt-stl.org.
Local and state leaders weigh in on the importance of transit to the region as MetroLink celebrates 30 years:
Congratulations to the MetroLink on their 30th Anniversary of serving our region and connecting people with opportunities one stop at a time. Growing up, my grandmother worked as a Bi-State Transit Operator and I saw firsthand how important the simple act of taking people to work, school, or across town can help families. Today, as a State Senator who represents a district with MetroLink stops throughout its area, I am committed to ensuring public transit is safe, well-funded, and expanded to create even more opportunities going forward. Thank you to all the men and women who make the MetroLink a success! – State Senator Brian Williams ( D – University City)    
Congratulations to Metrolink on 30 years of connecting our region to where we live, work and play. Since its inception in 1993, the Metrolink has played a vital role in building thriving communities, creating jobs, easing traffic congestion and promoting a cleaner environment. – D'Andre Braddix, Ed.D., Executive Director, Diversity, Equity & Inclusion, St. Louis Community College
Safe, efficient transit infrastructure not only enhances communities but also fuels real estate growth. As MetroLink's 30th Anniversary approaches, we celebrate its success in St. Louis, where ridership surpassed expectations from day one. With billions in development tracked within a ½ mile of the system, let's embrace the future of transit, where opportunities for employment, development, and access thrive together. – Charlie Hinderliter, SVP of Government Affairs, St. Louis REALTORS®
Metro represented the style of bold thinking that has made St. Louis a winning community.  Metro transit also represents what can be achieved when a community brings all of its diverse pieces together for a common goal. That can be hard to do. But we've done it, and we can do that again. We must. Too many people rely on a safe, one-time, quality transit system.  – Adella D. Jones, Chief of Staff, University of Missouri – St. Louis
Every major metropolitan area needs good, dependable public transportation and with increasing concern over the effect of emissions on our environment, light rail has become an even more critical transportation component.  Metrolink has proved its value to our community in so many ways.  – Lawrence P. Katzenstein, Thompson Coburn LLP
BJC marked its own 30-year milestone as a system this year, and in celebration reinforced our promise that 'you deserve extraordinary care.' Making health care accessible to all is central to that promise and public transportation is vital to that accessibility for our patients, families, and caregivers.
Bob Cannon, Group President, BJC HealthCare

Our congratulations to the many advocates, agencies, community leaders, and partners who made the MetroLink system possible and have successfully sustained this piece of critical infrastructure within our region.  MetroLink serves this community in many ways, including that of a catalyst of investment, community development, and revitalization along the entire alignment.  Hats off to all on this tremendous milestone and we look forward to a bright future of superb operations and expansion of the system.  Aaron Burnett, President, Bywater Development Group


MetroLink has been a tremendous asset to our clients who require public transportation to travel to and from work. Happy 30th Anniversary MetroLink. You continue to be an outstanding and positive force in our region!  – Sal Martinez, President, Employment Connection