By Meredith Muehler, CMT Program Assistant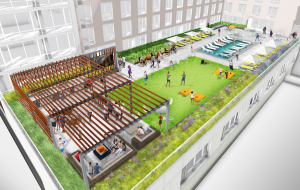 With the Delmar Loop Trolley scheduled to open next Spring, there is still more to come to the ever growing and popular Delmar Loop area. Autumn 2017 will bring the opening of The Everly, a 14-story high rise housing and retail development project bordering both the Delmar Loop MetroLink Station and the Loop Trolley.
The housing portion of the space will include a rooftop pool, gym, designated space for bikes (as well as cars), and provide the opportunity for carsharing.
The project is funded by a partnership of the Clayco Realty Group and The Koman Group. The development is conveniently located and easily accessible to transit. Construction on the project is already underway, and plans are to open the facility next August.