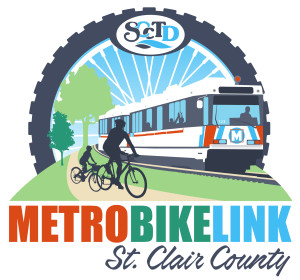 The MetroBikeLink will be expanding westward soon with an estimated opening in 2019.  The St. Clair County Transit District (SCCTD) has partnered with Metro East Park and Recreation District (MERPD) to construct another segment of the trail system along the MetroLink light rail alignment in Illinois.  This proposed section of trail will extend from Memorial Hospital Station to the Fairview Heights Station, a distance of 3.5 miles.  This section of trail will be the most scenic yet, extending through the "Dutch Hollow" area of the county.  The 10' wide paved trail will extend through wooded areas and crosses over various waterways, including Schoenberger Creek.
This section of trail started as an access roadway for a MetroLink projects.  Due to the rugged terrain in the area, the rock road was constructed to provide access for trucks and other construction vehicles.  Now, the project is nearly finished with the design stage.  SCCTD is waiting on final approvals on a few details to move forward. Once these are obtained, the project will be bid, with completion of the trail expected by mid-2019.  Once completed, the MetroBikeLink trail system  will be 15 continuous miles from the Fairview Heights MetroLink Station to the Shiloh-Scott MetroLink Station.
SCCTD has invested in safety, adding 7 major bridges along the length of the 15-mile trail to eliminate crossing the busiest streets (Fullerton Rd, IL 159, Carlyle Ave, Green Mount Rd, IL 161 and others).  These are identifiable with their "Transit" blue beams above the roadways.  There will be only 7 at-grade roadway crossings the entire 15-mile length, making it a great place for families to get on board with transit and biking.