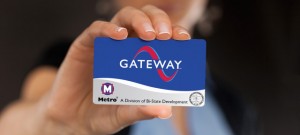 Metro unveiled the new name and design for their promised Smart Card program.  The Gateway Smart Card design is described as, "an arch designed into the Gateway logo that flows into a wave, depicting the Mississippi River."  Read more here.
Smart Cards provide a more convenient, secure way to pay transit fares and can replace paper tickets and passes for those who decide to use one.  The passes contain a computer chip in that that stores cash value that is automatically deducted when customers tap their cards against the fare equipment.
Metro is testing the equipment with a small group of customers, and will roll the entire program out next year.
Metro cites the following  Smart Card conveniences for customers:
More convenience: The Gateway Card can be loaded online, at ticket vending machines at all MetroLink stations, at some transit centers, at select retail outlets, or at the MetroStore downtown. For maximum convenience, customers will be able to set up autoloads to replenish the balance when it gets low, or to renew a pass that is soon to expire.
More security: Customers can register their Gateway Card so the balance is protected if it is lost or stolen.
Less hassle: The Gateway Card stores passes, cash value and discounts (for qualified customers). No need for exact change.
Better service: Gateway will make it possible for Metro to tailor routes and schedules to better meet customer needs.
Extra savings: Through a "daily cap" function, customers won't pay more than a set amount, no matter how many times they ride in a day.
Transit riders may call 314-982-1500 (MO) or 618-274-1500 (IL), and visit mygatewaycard.com for more information.