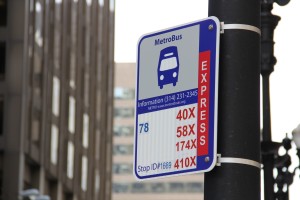 These days, we have access to a wealth of knowledge through our smartphones. Any question we have can be answered with just a quick search, but for those of us without smartphones, getting the information we need when away from home can be more difficult. For example, without a smartphone you aren't able to access Metro's website to get information on Metro Bus schedules or use their Trip Planner tool when waiting at the bus stop. However, Metro has debuted another tool that allows those without smartphones to access that information.
Now, when you call Metro Transit Information (314-231-2345 or 618-271-2345) you can access the new Interactive Voice Response (IVR) system to get real-time arrival information on your bus right over the phone. The system doesn't require access to the internet and is available 24/7.
All you need to do is enter the Stop ID Number and the IVR system will tell you the next three arrival times for your MetroBus route at that stop. The system also allows you to check if there are any rider alerts for that route.  Stop ID Numbers can be found on the Metro Bus signs (pictured above) at each bus stop.