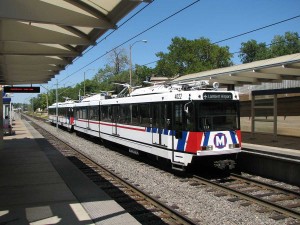 Transit fares are set to rise on July 1 in the St. Louis region.  Following public meetings and a public hearing, the Bi-State Development Agency/Metro narrowed the fare increase structure to one which was passed by its Board of Commissioners on Friday, May 23rd, 2014.
The public was given the chance to weigh in on three fare increase options and Option 2 received the most support. The fare increases are described below.
MetroLink 1 ride fare increasing $.25, bringing the cost to $2.50 a trip.
Weekly Passes will increase $2, bringing their cost to $27 a week.
Monthly Passes will increase $6, bringing their cost to $78 a month.
Semester Passes will increase $25, bringing their cost to $175 a semester.
The fare increase is estimated to generate $2.5 million annually.  These increases will help cover the increased costs of operating services and products like diesel fuel and will enable Metro to maintain its current level of service.
For more information on the increases, Metro customer service representatives are available from 7:30 a.m. to 4:30 p.m., Monday through Friday, by calling (314) 982-1406 or (618) 271-7879.
The final fare structure will be updated after Metro's Board meeting this coming Friday.