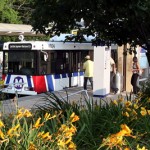 A Metro transit fare increase approved last month by the Bi-State Development Agency Board of Commissioners will go into effect on July 1. The cost of a MetroLink one-ride trip, as well as the weekly, monthly, and university semester passes will change. The cost of the one-ride MetroLink fare will increase from $2.25 to $2.50, making it $5 for a round trip. Weekly passes will increase from $25 to $27; monthly passes from $72 to $78; and the semester transit pass will go from $150 to $175.
The fare increase will not impact the $2 base MetroBus fare or the 2-Hour Pass/Transfer which will remain at $3. Also, there will no change in the price of a $7.50 Day Pass or the $4 Metro Call-A-Ride fare.
Passenger revenue is a critical source of funding for the Metro transit system and supports 22% of the cost to provide transit service. The remaining 78% is paid by the taxpayer. Higher costs for fuel, vehicle parts, and medical benefit expenses continue to add to the cost of operating the Metro transit system.