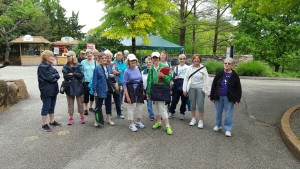 As Citizens for Modern Transit prepares to kick off our 11th year of the Ten Toes Express program, we would like to highlight the wonderful walk leaders that make this program so successful. Many who have walked with the program over the last 10 years know walk leader Mary Fran Balmer.
Mary Fran walks out of the Forest Park station on Wednesday mornings, and has been doing so for 11 years. She is a charter member of the walk leader group! When asked what the most rewarding part of being a Ten Toes walk leader was, Mary Fran said she enjoys finding new and interesting places to visit. She is always searching for new restaurants, exhibits, and new sites to explore. Mary Fran has many favorite destinations from her Ten Toes explorations. Some of which include the Amtrak trips to Alton and Springfield, IL and to Washington, Hermann, Jefferson City, and Sedalia, MO. Locally, she loves exploring Forest Park, Carondelet, Faust Park, Queeny Park, Laumeier, Powder Valley, and Tower Grove parks.
Mary Fran is a passionate member of the CMT Ten Toes team. Through her dedication she has opened many gems of the St. Louis area to her walking groups. As a walk leader, Mary Fran loves the exercise (rain or shine), making friends, finding local restaurants, and exploring parts of St. Louis you have never seen. Her favorite aspect though is realizing how far the Metro system can get you in St. Louis.
Interested in new adventures this spring, register today for the 2017 Ten Toe Express Spring Session.