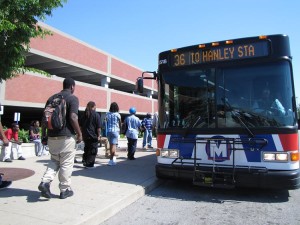 Scheduled for Monday, November 27, 2017, Metro will make a few minor adjustments to more than two dozen MetroBus Routes.  The routes impacted by the service change are listed below:
#04 Natural Bridge
#08 Bates-Morganford
#10 Gravois
#11 Chippewa
#17 Oakville
#19 St. Louis Ave
#20 S. Broadway
#21 Watson
#30 Arsenal
#31 Chouteau
#32 ML King
#39 Berkeley-Florissant
#40 N. Broadway
#41 Lee
#46 Tesson Ferry
#48 S. Lindbergh
#58 Clayton-West County
#73 Carondelet
#74 Florissant
#80 Park-Shaw
#94 Page
#96 Market Street Shuttle
#97 Delmar
#210 Fenton-Gravois Bluffs
#40X I-55 Express
#174X North Express
Updates will include new bus bay locations for all routes servicing the Civic Center Transit Center, except for the #04 Natural Bridge.  The new bus bay locations will help improve passenger connections and make it more efficient for buses to enter and exit the transit center.
More details on these changes including new schedules, route maps and map of the new bus bay assignments at the Civic Center Transit Center can be found on the Upcoming Schedule Change page at metrostlouis.org or by calling 314.231.2345 or 618.271.2345 Monday through Friday, 7 a.m. to 6 p.m.