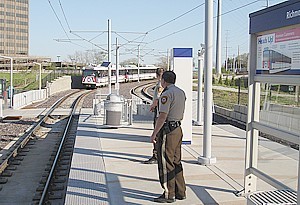 St. Louis City Mayor Lyda Krewson, St. Clair County Board Chairman Mark Kern, and St.  Louis Coutny Executive Stenger, whose jurisdictions fund Bi-State Development, in addition to John Nations, CEO of Bi-State, have signed a memo of understanding (MOU) outlining the plan to improve MetroLink security that they have developed in cooperation with law enforcement. While the MOU is not a binding contract, it is a policy directive that lays out a plan for addressing safety and security on the system through a collaborative effort.
The plan creates a joint law enforcement task force with members from all three law enforcement agencies. The MOU spells out that specific staffing goals will be established by St. Clair County, St. Louis County and the City of St. Louis that will include an evaluation of roles, delineation of authority and establishment of oversight and accountability structures. The MOU specifies that Bi-State will not decrease its level of publicly funded security services, rail-related safety personnel or contract safety personnel without the urging of the task force. It also specifies that Bi-State will not directly employ law enforcement officers and will only employ security officers.
The MOU states that the task force will be headquartered at a dedicated facility at 5977 Delmar Boulevard near the Delmar Loop MetroLink stop at Washington University. It also specifies that there will be improvement to citizen reporting capabilities and police radio communications. All MetroLink law enforcement personnel will be part of a unified police radio communication system that can receive 911 calls which will be used to dispatch law enforcement personnel. The MOU endorses 911 texting and working to bring the necessary technology to the MetroLink system.
"There is no single answer to the safety and security issues impacting our regional transit system. Agreement by the City, County and St. Clair County to jointly tackle those issues, in collaboration with Bi-State Development, is an unprecedented show of regional collaboration that will benefit not only transit riders, but the entire region. The next step now must be a coordinated effort by these elected officials and their law enforcement agencies to work with Bi-State Development and other key stakeholders to help ensure that all riders, whether daily commuters or occasional riders, trust that they will have arrive safely at their destinations.  Restoring public confidence is essential for the continued operation and eventual expansion of the transit system," said Kim Cella, executive director of CMT.
"Among the solutions aimed at safety and security improvements on MetroLink that are outlined in the recently agreed-to regional Memorandum of Understanding (MOU) is the establishment of a new Transit Advisory Working Group.   Citizens for Modern Transit (CMT) has been asked to serve on this group, and in this role we will continue to advocate for the immediate implementation of measures to improve safety and security, and over the longer term, the development of a regional plan to rebuild transit ridership.  A safe system with robust ridership will strengthen public transit's position as a fundamental component of the region's transportation network," said Cella.
"St. Louis County police are committed to moving this plan forward.  Our officers, currently at 38, are on the trains and platforms all the time.  We have quickly apprehended the suspects  in the most recent incidents on the system including UMSL shooting, the robbery yesterday in Clayton, and the Wellston incident involving the security guard. St. Louis County Police officers are working hard for the safety of MetroLink riders, and the collaboration outlined in this plan with St. Louis Metropolitan Police Department and St. Clair County Sheriff's  Department in cooperation with Metro's security team will allow all of the Agencies  to expand our effectiveness to the benefit of all users of the system," said St. Louis County Police Chief Jon Belmar.
"Safety on public transit is a regional issue. It affects our ability to attract new businesses and residents to St. Louis, but it also impacts our current businesses and our residents' quality of life. Thousands of people and businesses rely on safe and reliable public transit. That is why we at the Regional Chamber, and the thousands of companies and organizations we represent, applaud and support Mayor Krewson, County Executive Stenger, County Board Chairman Kern and Bi-State Development President John Nations for coming together to address safety on MetroLink.
Our regional elected officials' swift and decisive actions to allocate more resources, coordinate more effectively among policing entities, and improve police presence on MetroLink will help to make our system safer.  Increased safety will help increase ridership, which will in turn drive development around MetroLink stations and make expansion more attractive. This is one of the most important keys to improving and growing public transit in our region.
Every person in St. Louis deserves the opportunity to be safe and secure on our region's public transit system.  The signing of this memorandum of understanding is a move in the right direction," said Joe Reagan, President and CEO of St. Louis Regional Chamber.