Lime, formerly LimeBike, will launch electric scooters in St. Louis TODAY in partnership with the City as part of the company's dock-free mobility permit.  The Lime-S scooters are the most advanced shared electric scooter model of any mobility company in the country. Lime-S scooters cost $1 to unlock and 15 cents per minute of riding.  "St. Louis has embraced dock-free bikeshare, which is why we're excited to add a new, sustainable transportation option to the City," said David Woronets, Lime Operations Manager, St. Louis. "We believe that Lime-S will continue improving our strides towards equitable mobility in St. Louis and offer resi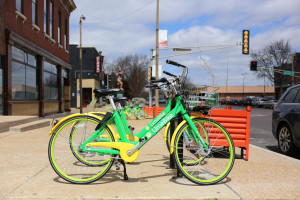 dents and visitors a fun, affordable way of getting around."
Since Lime's bikeshare launch in April, over 60,000 unique riders have taken rides on LimeBikes in St. Louis. Lime recently expanded to Clayton and Ferguson.
"Bike share in St. Louis is providing transportation options for residents, workers and visitors alike," said Deanna Venker, Commissioner of Traffic. "Bike share is helping bridge the gap for that 'last mile' trip to the grocery store, health care and transit stops making St. Louis more accessible to all."
"We are thrilled Lime has chosen to expand operations in St. Louis as its resources will benefit new and existing public transit users," said Kimberly Cella, executive director of Citizens for Modern Transit, the St. Louis region's transit advocacy organization. "In addition to walking and biking, electric scooters are now available to help extend transit trips and close any gaps that may exist between transit stations and an individual's point of origin or destination."
Earlier this week, St. Louis was highlighted in Lime's One Year Report that offers a close look at how the company is revolutionizing the way people are getting around cities.
Lime is committed to accountability, collaboration, and safety. In St. Louis, Lime will collect all scooters on a daily basis, charge them overnight, and redistribute them the next day in approved areas so that they are fully charged, maintained, and ready to be ridden every morning. This helps to ensure that scooters are stood upright and parked responsibly.
Currently available in more than 70 markets, Lime is the leading U.S. micro-mobility company in the nation. Since first launching in June 2017, riders have logged more than 6 million trips on its electric scooters, electric-assist bikes, and classic manual pedal bikes. All of Lime's bikes and scooters are GPS and 3G-enabled, making it simple for riders to find, unlock and pick up a nearby vehicle using their smartphone. When the ride is finished, riders simply end the ride with the Lime mobile app and responsibly park by the street curb, or at a bike rack.