First U.S. public-private collaboration brings together a major U.S. transit system, an automaker and an urban technology company to enhance existing mass transit by providing greater mobility options to residents of Kansas City
Ford is exclusive vehicle provider for Ride KC: Bridj because of its commitment to developing smarter transportation systems through its Ford Smart Mobility plan

By improving access to jobs, one-year pilot program will be a catalyst for social and economic opportunity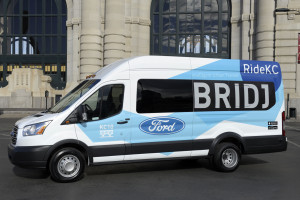 Kansas City commuters will be first in the nation to test a unique solution for increased urban mobility.  Urban technology company Bridj is teaming up with the Kansas City Area Transportation Authority to launch Ride KC: Bridj – a pilot program using a network of locally built Ford Transit vans to provide a new way to access areas of Kansas City that are rich in jobs and housing.
This transformative program is the first U.S. public-private partnership that brings together a major U.S. transit agency, an automaker and an urban technology company with the aim of enhancing Kansas City's existing mass transit system by providing greater access and mobility to residents.
"Today, we are bringing another transit option to the region with the introduction of microtransit," said Robbie Makinen, KCATA president and CEO. "By combining the intelligence of Bridj technology with capable and flexible Ford Transit vehicles, we are creating a seamless and borderless transportation network for our residents that is easy to use, comfortable and affordable."
Ride KC: Bridj is scheduled to launch in early March. Powered by billions of data points, Bridj's platform determines where riders want to go and how to get them there most efficiently. Using the Bridj mobile app, riders can request on-demand shuttle service that they can access via pop-up shuttle stations.
"Bridj is thrilled to be the urban technology platform for Ride KC: Bridj," said Matt George, CEO of Bridj. "Modernizing urban infrastructure will be the single greatest technology challenge of our time, and this pilot is part of the solution by significantly extending the current capabilities of Kansas City's mass transit system."
Ford is the exclusive vehicle provider for Ride KC: Bridj because of its commitment to enabling urban mobility through its Ford Smart Mobility plan.
"Our goal is to make people's lives better by changing the way the world moves," said Erica Klampfl, global mobility solutions manager, Ford Research and Advanced Engineering. "The Ford Smart Mobility plan supports our commitment to innovation, and is aimed specifically at developing smarter mobility services. We are excited that Ford Transit was selected for Ride KC: Bridj because this is one of many projects that will help us gain insights into what works and develop smarter, more connected mobility solutions and service-oriented products."
Ten Ford Transit passenger vans built at Kansas City Assembly Plant will stay close to home, becoming the network of shuttles in the pilot program. The fleet of high-roof, long-wheelbase Transit vans with available 3.5-liter V6 EcoBoost® engines will be modified with a custom 14-passenger seating layout and custom-installed large running board for passenger convenience. Bright logos on the sides will make for easy visibility.
After an extensive review process, KCATA was chosen by Bridj as the first transit agency to participate in the pilot. KCATA is an attractive partner due to its commitment to innovation and to establishing collaborations that connect people to opportunities. Kansas City is frequently found on "best of" lists for technology, arts, entrepreneurship and places for young people to live.
Bridj also operates in Boston and Washington, D.C. However, Ride KC: Bridj is the first program being implemented in direct collaboration with a transit agency and with Ford as exclusive vehicle provider.
"Bridj will be an empowering tool that will offer one more option to make it easier for people to get around," said KCATA's Makinen. "KCATA is a place where bus, bike, streetcar and rapid transit come together to create a seamless and borderless transportation network that's easy and friendly to use. Bridj will be a valuable addition to Kansas City's mix of transportation options."
The one-year pilot program initially will include downtown Kansas City, the near east and west sides, Hospital Hill, Crown Center, portions of Midtown, University of Kansas Medical Center and the Historic 18th and Vine Jazz district. It will augment and serve as a gateway to other forms of transit as many pick-up locations will be at bus stops and areas served by existing Kansas City transit and bike-share systems. Additional routes will be added based on rider demand as identified through Bridj technology.
"Only 18 percent of jobs in the Kansas City region are accessible within 90 minutes when using existing mass transit options," said Bridj's George, citing figures from the Brookings Institute. "By improving access to jobs, Ride KC: Bridj is a catalyst for social and economic opportunity, and an example of what is possible when cities adopt technological innovation and work in collaboration with private entities to create a truly modern city."