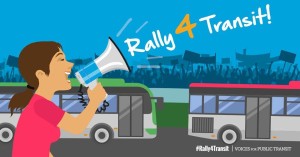 Today, Citizens for Modern Transit is joining transit agencies and advocates across the country and urging Congress to support public transit funding in the federal budget and federal infrastructure legislation.
We are calling for Congress to renew our nation's historic commitment to public transportation in the upcoming budget. The Administration and some members of Congress have proposed cuts to public transportation that could stall or undermine current and future public transit projects. We must tell Congress that cuts to public transportation will hurt American communities and our economy, cost jobs, reduce public safety, and increase traffic congestion.
Missouri Transit providers provide more than 62 MILLION rides each year in every county in the state.  It's time to make our voices heard!
We're asking advocates to take multiple actions so we can turn up the volume and make our message heard.
Send a letter to your Member of Congress
Submit a Letter-to-the Editor in your local media outlets
Get Social — Share a video or selfie with your personal message of support, including why YOU support public transit by using the hashtag #Rally4Transit
Lawmakers need to hear that public transportation is a priority for our region and the American people and deserves to be fully funded. Make your voice heard and join us to #rally4transit.