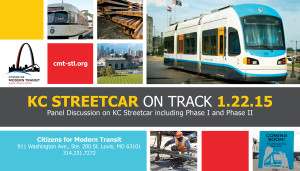 The Kansas City Streetcar is under construction, new development is going in along its path, and residents will soon be able to jump on board as it hits the tracks for service.   Citizens for Modern Transit (CMT) will host a sneak peek of the Kansas City Streetcar on Thursday, Jan. 22, 2015, registration and lunch at 11:30, presentation from 12:00 noon to 1:00 pm.
The panel discussion will give CMT members and friends to hear an update on the Kansas City Streetcar Phase I and plans for Phase II as well as the opportunity to hear from the Executive Director of the Kansas City Streetcar Authority, Tom Gerend.
The event will be held at the MX Movie Theater, 618 Washington Avenue, St. Louis, MO 63101.  The MX is accessible by MetroLink via the Convention Center Stop.  Paid Parking is available at the 7th Street Garage located at 7th and Locust.
Member Tickets are $20 a piece and Non Member tickets are $30.  Please join us!
Special thanks to our sponsors: