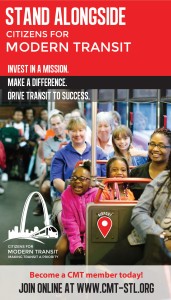 Stand alongside Citizens for Modern Transit this Fall because Public Transit Matters
In addition to serving as the sole means for many to get to work and access needed goods and services, transit plays a key role in fueling local economies.  It attracts business and  industry, sparks development, influences employee mobility, promotes equality and much. That is why Citizens for Modern Transit (CMT) is continually working to help expand and improve a safe, integrated and affordable public transportation system throughout the St. Louis region.   To stay on mission, make a difference and drive transit to success, CMT relies on the support of its members. CMT is currently backed by more than 20,000 transit riders, employers, academic institutions, and labor/community organizations.  Your help is greatly needed, too!
With the help of members, and in collaboration with area partners, CMT is furthering the framework upon which public transit can continue to thrive.  The organization leads feasibility study, initiates pilot projects like the MetroLink Access Pilot, secures funding including the needed federal dollars for Metro to build the new Cortex MetroLink Station, creates nationally recognized, award-winning programs to boost ridership, and works to secure the safety and security of the system.
Please consider standing alongside CMT to positively influence the short and long-term success of public transit and the economic vitality of the entire region.   Become a member today and see the tangible difference.