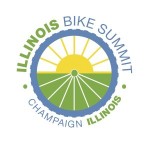 The League of Illinois Bicyclists and Champaign County Bikes is co-sponsoring their third annual Illinois Bike Summit on Tuesday, April 15, 2014.
Bicycle advocates and interested professionals are invited to enjoy a day of learning, networking, and training to help make IL towns more bike-friendly.
REGISTER FOR THE 2014 ILLINOIS BIKE SUMMIT – By April 8
The opening session begins at 10 am with a session on IDOT's new Bicycle Transportation Plan.  IDOT's Deputy Director of Planning and Programming, Bola Delano, will summarize the plan, and LIB's Ed Barsotti will describe implementation priorities of the bicycling community.  Session topics for the day include:
Local bike advocacy case studies
Bicycle-Friendly Universities
Illinois bike trail project success stories
The Bronze Age of Champaign-Urbana:  The Making of Two Bicycle-Friendly Communities
Bicycling and the health community
Bicycle education and enforcement
Mountain biking in Illinois
Life with a bike
Bike share programs – big and small
See the tentative schedule and speaker list (3/24/14)
Program Extras will include
A 3-hour "Turning Complete Street Policies into Good Practices" technical training session, concurrent to the afternoon breakout sessions, will be offered for agency staff, consultants, and interested advocates.  Continuing education credit will be offered to engineers (PDH) and planners (AICP CM).
Bring your bike for an hour long early morning ride through the Champaign and Urbana Communities and the U of I campus.  The ride will leave the I-Hotel Parking Lot at 7:00 am and is being led by members of the Prairie Cycle Club, Champaign/Urbana's social riding club that has been organizing rides for local riders since 1971.
The very popular "Coffee Talks" of past summits will be held again from 8:30-9:30 am at the I-Hotel.  Topics tentatively include:  Producing your First Bike Map, Running a Community Bike Workshop, Bike Counts & What we learned from our first Campus Bike Census, Bike to School Day, and Bike to Work Day events.
Our post conference reception tradition will continue at the 2014 Summit.  So plan to hang out for a bit longer at the I-Hotel for some refreshments and extended networking time before you leave.