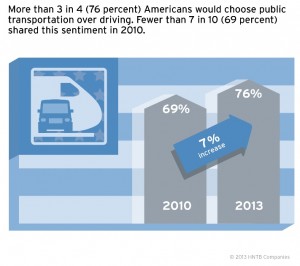 HNTB Corporation's recent survey shows that 76% of Americans "are open" to taking public transportation for a trip instead of driving, which is 7% more than responded this way in 2010. The survey, run the week of September 5 – 12 of 2013, collected responses from a random nationwide sample of 1,127 Americans.
HNTB's poll found a few interesting results:
41% of respondents would choose transit because of high gas prices.
54% hold the view that public transportation over driving would save them money.
91% believe that the nation's public transportation system needs to be improved
56% would be more likely to use public transportation if it was more conveniently located.
When asked about specific public transportation options, people's responses relate to some of the projects being considered for this region:
82% of respondents said they'd be interested in trying BRT.
55% said they'd prefer a new bus system over a train system being integrated into their communities.
78% of Midwesterners (vs. 72% elsewhere) were more likely to support BRT implementation in their communities.
While these findings don't match the current results of CMT's survey about local transit priorities, they do provide an interesting comparison.
Article Source and to learn more, visit – http://news.hntb.com/news-releases/ready-to-ride-america-thinks-transit.htm.