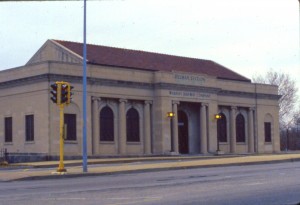 On June 7, 2014 from 8:30 am to 12:00 pm, Citizens for Modern Transit (CMT) and the Skinker-DeBaliviere Community Council (SDCC) will host a public visioning session for turning the Historic Wabash Station into the primary entrance to the Delmar MetroLink Station.  The visioning session will take place at the Des Peres School at 450 Des Peres, St. Louis, MO.  Please RSVP to participate at info@cmt-stl.org.
The Wabash Station Building, owned by Joe Edwards, currently sits unused at the natural entry point to the Metro from Delmar Avenue.  Discussions with stakeholders in the area demonstrated that moving this plan forward is a high priority.  To lay the groundwork for direct station access, placemaking, and future development, CMT and the SDCC will hold a visioning session with key stakeholders that will articulate plans for turning the building into the entrance to the Delmar MetroLink Station.
This visioning session was made possible by a grant from RiseSTL.  Rise is a leading nonprofit organization that connects key groups working to revitalize communities and neighborhoods in Greater St. Louis.  Formerly Regional Housing and Community Development Alliance (RHCDA), Rise acts as a resource and partner to the community, bringing together nonprofit organizations, financial institutions and government that make successful neighborhood revitalization possible.
We hope you will join us for this exciting event and be a part of re-activating the Wabash Station and taking plans for the Delmar Station, the Skinker-DeBaliviere community and the Loop to the next level.  Please RSVP at info@cmt-stl.org.