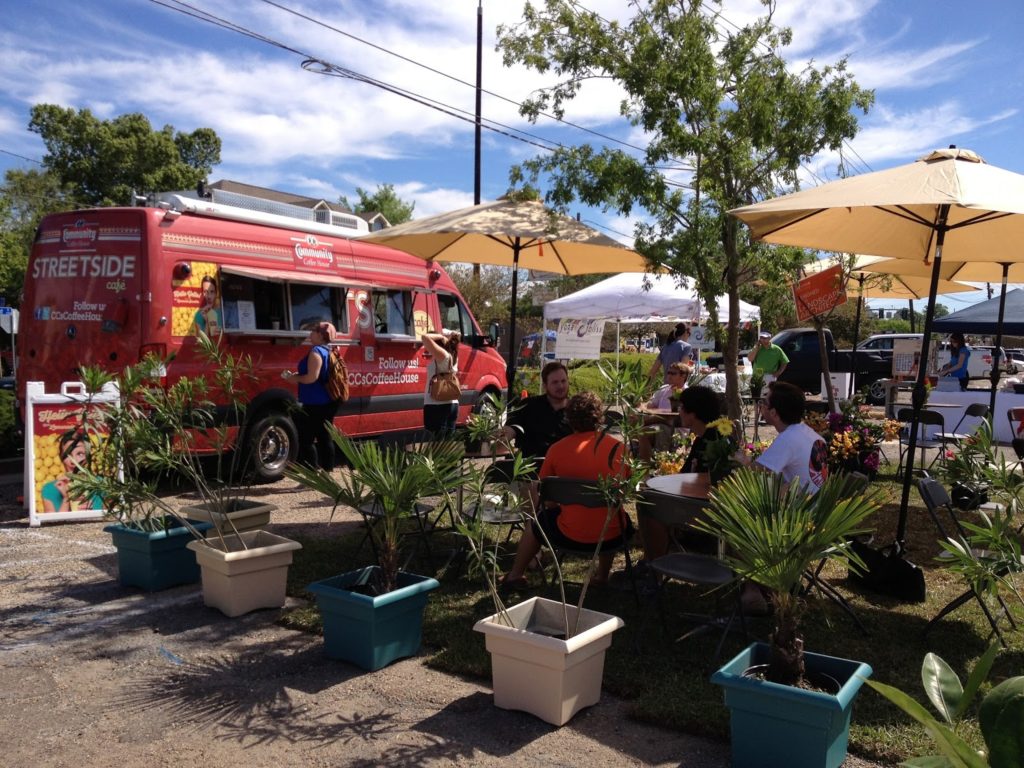 Think a CMT Metro Market at the Rock Road MetroLink Station is a Good Idea?  (We do!)
Here's your chance to make it happen!
CMT's proposal to Monsanto's Grow St. Louis Contest with a Rock Road CMT Metro Market has been accepted which means that you can help make it happen!
Remember CMT's Metro Market at the Shrewsbury Station, a live visioning session, "pop-up" event, to demonstrate to residents, elected officials and stakeholders the potential around a light rail station above and beyond a sea of cars? More than 300 people joined CMT at the Shrewsbury Metro Market on May 8. CMT even received national coverage for their effort.  Help us move development forward at Rock Rock by supporting this effort.
If we are in the top 5 vote getters, we'll get $20,000 to make a Rock Road Metro Market a reality!
All you have to do :
Vote for CMT's entry between July 21 and August 3rd and
Invite your friends to do the same.
Here's the link to vote –https://www.facebook.com/growstlouis
The Grow St. Louis program is sponsored by Monsanto to support local non profit organization's work for growth in the region.  Non profits nominate ideas  that once accepted, can be voted on by the public.  The top five vote-getters receiving $20,000 grants from Monsanto!
So, if you agree that a Metro Market held at the Rock Road station would be a great first step for long term development at the station, plan to like our entry on Facebook anytime between July 21 – August 3rd.
Vote Here – www.facebook.com/growstlouis
Read CMT's full proposal here:
With the help of Grow St. Louis, Citizens for Modern Transit (CMT) will host a Metro Market at the Rock Road MetroLink Station.  Metro Markets are pop up events that model placemaking and development around MetroLink stations in the region.  MetroLink stations can be leveraged to transform the communities around them and CMT will host a Market at the Rock Road station to help residents and policy makers envision the revitalization possibilities for their community.  The Market will be a fun event that is attractive and inviting to residents through live music, Food Trucks, farmers market vendors, community service organizations, mobile health stations, the MySci Investigation station and more.  Outdoor seating, plants, and other interactive activities will help transform the existing parking lot into an engaging, community space.  Residents will learn about the market through direct mail invitations, radio and television advertising, and partnerships with organizations including Beyond Housing, faith communities and more.  In addition to modeling long term development at the station, the Market will help residents see movement on long term plans for the station.  Beyond Housing and the City of Pagedale have adopted Form Based Code ordinances and engaged residents in plans for development at the Rock Road station, but actual building will not occur immediately.  This market will show movement in the right direction in the short term while long term plans are actualized.  The Metro Market will help St. Louis Grow by supporting existing revitalization efforts in the underserved neighborhoods around the Rock Road MetroLink station, by engaging the community in those revitalization efforts, and by transforming the bleak empty parking lot into a space the community wants to be, thus laying the groundwork for the community's long term goals.  The purpose of this program is to 'grow St. Louis' around transit.
Vote Here – www.facebook.com/growstlouis