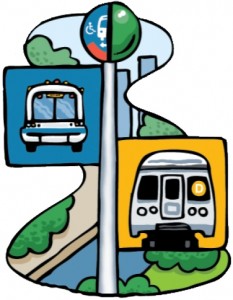 The Administration unveiled a new a multi-year surface transportation re-authorization proposal today called the GROW AMERICA Act which will provide a $302 billion, four-year multi-modal national vision for the country's transportation network.  $72 billion of those dollars is dedicated to public transportation.
The GROW AMERICA Act would authorize a nearly 70 percent increase in transit funding over the current level in MAP-21, the current transportation law set to expire on September 30 of this year.
GROW America, which stands for Generating Renewal, Opportunity, and Work with Accelerated Mobility, Efficiency, and Rebuilding of Infrastructure and Communities throughout America, will tackle the following challenges:
Address the shortfall in the Highway Trust Fund and provide $87 billion to address the nation's backlog of deficient bridges and aging transit systems;
Create millions of new jobs to ensure America's future competitiveness;
Increase safety across all modes of surface transportation, including increasing the civil penalties the National Highway Traffic Safety Administration (NHTSA) can levy against automakers who fail to act quickly on vehicle recalls;
Provide certainty to state and local governments that must engage in long-term planning;
Reduce project approval and permitting timelines while delivering better outcomes for communities and the environment;
Bolster efficient and reliable freight networks to support trade and economic growth; and
Create incentives to better align planning and investment decisions to comprehensively address regional economic needs while strengthening local decision-making.
We've all heard that transit use is on the rise – a record breaking 10.5 billion passengers in 2013!  Additionally, the US population is expected to grow by 100 million people by 2050, and the need for transit infrastructure can and will only grow.  Stack that alongside the reality that current transit systems face an $86 billion maintenance backlog which is expected to grow $2.5 billion a year if nothing is done, we can all agree that the States are facing an infrastructure overload and we can and must do better.
The GROW AMERICA Act begins to address these challenges head-on through new, innovative new programs:
Creating new ladders of opportunity for the American workforce by expanding training in high-tech, operations, and construction jobs in the transit industry;
Assisting rapidly growing communities and cities to get ahead of congestion by quickly implementing bus rapid transit solutions;
Protecting American jobs and domestic manufacturing by strengthening Buy America requirements over time;
Increasing funding to drive down the transit maintenance backlog to ensure that transit remains safe, reliable, and desirable; and,
Restoring a competitive, discretionary bus and bus facilities funding program so communities may replace aging vehicles and modernize facilities.
"We are excited to see a multi-year bill with a significant increase in transit funding.  The demand for transit from so many constituent groups seems to be having an impact on the policy front," Said Kimberly Cella, CMT Executive Director.
Information about the GROW AMERICA Act may be found at the Department's website: http://www.dot.gov/grow-america, and more specifically, click http://1.usa.gov/1kbHMT0 to learn more about how the GROW AMERICA Act improves public transportation.  Please share these links with your personal and social networks. Please also let them know that more information and details are forthcoming in the days to come.