As you begin putting thought into the charities and causes you will support in 2017, please consider a year-end gift to Citizens for Modern Transit's (CMT) new pilot program tied to safety.
As the regional transit advocacy organization, CMT is continually working to improve and expand transit options throughout the St. Louis region. As you know, public transportation provides thousands of local residents with access to jobs, education, healthcare and much needed goods and services, while also playing a key role in racial and social equity, economic development and the region's ability to attract and retain talent.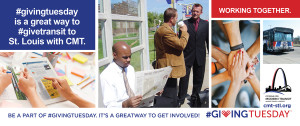 A top priority for CMT is ensuring that the public safe while using the transit system.   Gifts this year will help support a safety program that allows smartphone users immediate, real-time access, via mobile devices, to emergency personnel in the event of an unsafe situation through a partnership with  SafeTrek. Creating and maintaining a safe environment around transit is critical to building public confidence in the system.
Those who are interested in supporting this safety program for transit riders can click here.