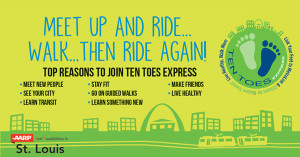 Join CMT and AARP in St. Louis on Tuesday, April 3, as the Spring 2018 Session of the Ten Toe Express Program gets underway with a kick-off walk to Busch Stadium for a private behind the scenes tour just days before the St. Louis Cardinals' home opener.
The tour will begin at the Shrewsbury MetroLink Station at 9:30 a.m. The group will take the train downtown for an hour-long tour of Busch Stadium that gets underway at 10:30 a.m. and features exploration of the broadcast booth, dugouts, locker rooms, Champions Club (with world series trophies), and the Redbird Club, as well as on-field time. Following the tour, individuals are welcome to head over to Ballpark Village to purchase and enjoy lunch, or catch the train and head directly back to the Shrewsbury Station.
The cost is $10 for the kick-off tour and $10 for the entire session. To register  or call 314-231-7272 by Friday, March 16. Space is limited so be sure to make your reservation early.
Be sure to wear your Cardinals gear and get in on the action!