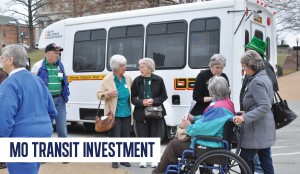 The Federal Transit Administration (FTA)  announced approximately $264 million in project selections to improve the safety and reliability of America's bus systems and enhance mobility for transit riders across the country. A total of 139 projects in 52 states and territories will receive funding from FTA's Buses and Bus Facilities Infrastructure Investment Program.  The grants will fund projects to replace, rehabilitate, and purchase buses and related equipment as well as projects to purchase, rehabilitate and construct bus-related facilities, such as buildings for bus storage and maintenance.
Missouri recipients will receive more than $8 million in federal funding for bus and 5311 vehicle replacements.   The City of St. Joseph, MO will receive $4.725 million to replace vehicles that have exceeded their useful life.   MoDOT was awarded $3.6 million for the replacement of vehicles in the 5311 program.  This will replace from 80-100 vehicles.
"The FTA funding for new buses in the St. Joseph area is incredibly important to the citizens who use transit. Almost all of the buses have reached or exceeded their useful life and often have issues breaking down. This funding will help to replace older buses and improve the dependability and efficiency of the transit system. We are grateful to receive the funding and look forward to new buses running throughout the city," said Transportation Planner Chance Long with the City of St. Joseph, MO.
"FTA is proud to help bring new and rehabilitated buses, facilities, and equipment to communities across the country," said FTA Acting Administrator K. Jane Williams. "This marks a step forward in improving mobility for the millions of Americans who travel by bus to work, school, healthcare, and other services."
"Today was a positive day for transit in MO with two awards for vehicle replacements that will impact transit service across the state.   Federal funding for transit is imperative in a state like Missouri where per capita funding is less than 25 cents for public transit," said Kim Cella, Citizens for Modern Transit Executive Director and Director of the Missouri Public Transit Association.