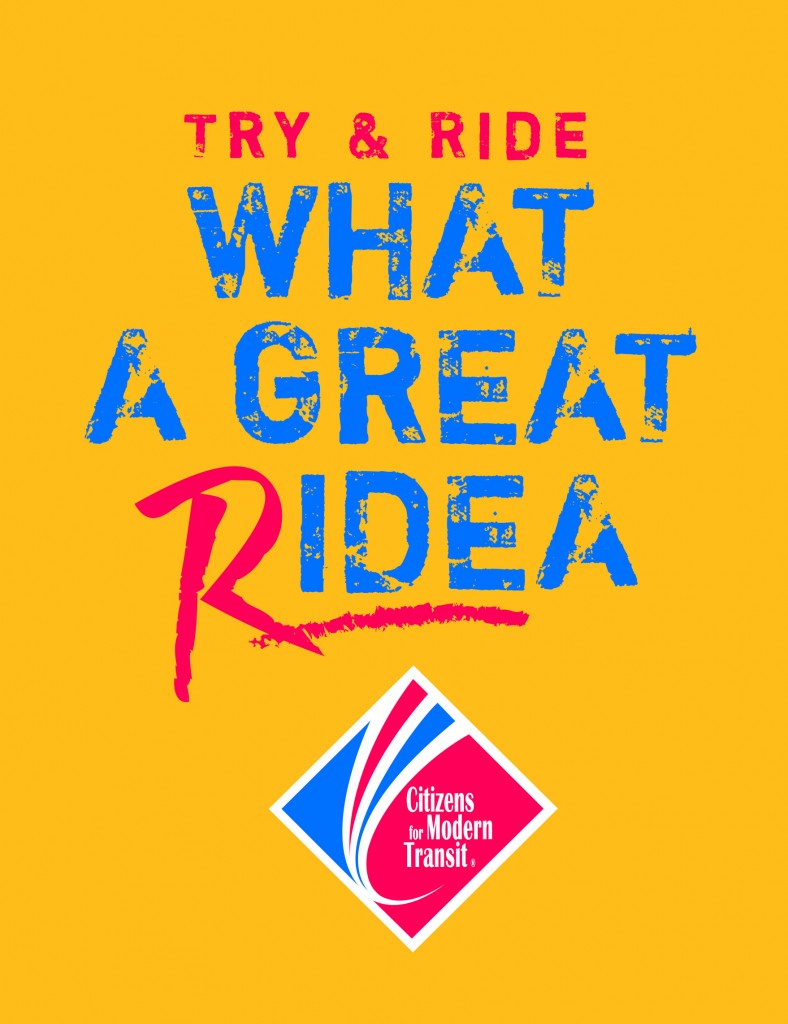 Just months after the successful rollout of its new Try & Ride program, which quickly garnered the public's attention and led to the registration of more than 500 participants interested in giving transit a try for their workday commute, Citizens for Modern Transit is teaming up with the St. Louis Green Business Challenge to host the Try & Ride Green Business Leaders Commuter Challenge. This competition is placing Arcturis, Christner, Inc., Jacobs and The Lawrence Group in a head-to-head competition to encourage individuals employed by St. Louis' leading green design firms to integrate MetroLink or MetroBus into their daily work commute at least two times per week. Each of these firms are current Green Business Challenge participants.
"For many area residents, the thought of using mass transit for the workday commute comes with a mass number of questions like – What route do I take?; Will it lengthen my commute time?; and What if I take the MetroLink to work and later need my car?," commented Kim Cella, executive director of Citizens for Modern Transit. "The new Try & Ride program addresses these questions and helps area residents overcome some of the perceived hurdles associated with using public transit for the workday commute. We are excited about this competition and the ability to extend the reach of this program through our partnership with the St. Louis Green Business Challenge and these local employers."
In order to be eligible for the Try & Ride Green Business Leaders Commuter Challenge, participating companies had to get a minimum of 10 percent of their employee base to commit to traveling to work via MetroLink or MetroBus at least two times per week for the next-two month period. From there, each confirmed employee participant registered for the Try & Ride program through Citizens for Modern Transit separately, and received a packet in the mail with a personalized transit route for his/her work commute, a month of complimentary tickets, a journal to capture stories and write down reminders, and a list of tips and tricks for using transit. This registration process also enrolled the employees in the Guaranteed Ride Home program, which provides the user with a cab ride home or rental car in the case of an emergency or unexpected schedule change at work. The only out-of-pocket expense incurred by employee participants is the cost of the second month's fare. Arcturis will be covering the cost of the second month's fare for its employees, as they are one of many local businesses offering transit subsidies that pay for all, or a portion of, the cost to take transit.
Kelly Duepner of Christner, Inc., commented about their firm's involvement stating, "We are always looking fornew ways of incorporating sustainable practices in our business, our projects, and our daily lives. As a firm we enjoy participating in the St. Louis Green Business Challenge as a method for evaluating our current practices and discovering more ways of living sustainably. The Try & Ride competition is a great way of encouraging our employees to lower their carbon footprint by driving less and taking public transportation instead.  We are excited to hear about their experience using the Metro Transit system."
The winner of the commuter challenge will be determined based on the total number of points earned on the official Try & Ride Green Business Leaders Commuter Challenge scorecard that analyzes participation, usage, availability of transit subsidies, the level of continued commitment to transit after the completion of the competition period, and each company's efforts to raise awareness about the benefits of the alternative commute. This competition runs from September 2, 2014 to November 2, 2014. Additionally, each of the participating companies will receive "innovation" points for their involvement in the Try & Ride Green Business Leaders Commuter Challenge, which will be credited towards their overall Green Business Challenge scorecard.
"The busy architects, designers and engineers from these outstanding firms will blog about their experiences trying transit," reports Jean Ponzi, coach of over 150 companies in the Green Business Challenge. "We believe the benefits of greener commuting will encourage other business people to follow their lead. Just as the kind of sustainable thinking these companies apply is transforming conventions of building design, the shift in thinking about getting to work that Try & Ride offers can help change the ways St. Louisans typically get around town. Green business practices save energy and money, and use person-power more creatively and efficiently. Transportation is a huge opportunity in this mix!"
To learn more about Citizens for Modern Transit's new Try & Ride program, how individuals can register for this free resource or how area employers can get involved, visit www.cmt-stl.org or call (314) 231-7272. You can also find them on Facebook or follow them on Twitter @cmt_stl.
Citizens for Modern Transit
Citizens for Modern Transit is a not-for-profit organization in St. Louis whose mission is to expand the light rail system in order to build more sustainable, accessible communities in the region.  
St. Louis Green Business Challenge
Presented by the St. Louis Regional Chamber of Commerce and the Missouri Botanical Garden, the St. Louis Green Business Challenge delivers "triple-bottom line" results (financial, social, and environmental) to companies and organizations across the St. Louis region. Participants use a Scorecard to guide strategic, cost-beneficial implementation of a wide range of sustainable options that address the everyday operations common to every business. Engaging seminars, lively networking events, peer-to-peer mentoring and customized coaching inspire company actions, from "green basics" to innovations. Since 2010, over 150 companies representing more than 110,000 employees, have participated in the Challenge.
Arcturis
Arcturis, founded in 1977, is a full-service design firm providing planning, architecture, interior design, graphic design, landscape architecture, and workspace optimization services. Arcturis has a strong portfolio of work with corporate, healthcare, civic and educational clients. Additionally, Arcturis is a certified WBE by the Women's Business Enterprise National Council (WBENC). At Arcturis, we practice relationship based design. The foundation is our collaboration with the client. Together, we explore every dimension of the need beginning with the individual and scaling up to the level of the organization and community. Our team of architects and designers push the quality and innovation of the design in the context of every relationship it will sustain. The results are twofold: Built environments that inspire and serve people. And relationships with clients that build their organizations locally, nationally and globally. Believing that design has a social responsibility component, we are committed to sustainable practices and philanthropic activities that enhance our relationship with our communities and planet. 
Christner, Inc.
With over 50 years of professional practice and business success, Christner is a planning and design firm known for delivering sophisticated architectural solutions that respond to complex site, technical, and aesthetic requirements.  Our collaborative approach throughout the design process assures that our projects are environmentally sensitive, use less water and energy than conventional projects, are constructed from locally harvested materials, and provide healthier indoor environments. 
Jacobs
Jacobs is one of the world's largest and most diverse providers of technical, professional, design and construction services. Our global network includes more than 250 offices in more than 28 countries.  Today, our more than 70,000 employees around the world provide a broad range of technical services to our industrial, commercial and government clients in multiple industries.  Services include scientific and specialty consulting, as well as all aspects of engineering, architecture, construction, program & construction management, and operations & maintenance. More than 90 percent of our work is repeat business. That commitment to client value and partnership produces consistent cost advantages, profits and growth, allowing us to attract and retain the industry's top talent. Our strict dedication to safety and uncompromising ethics & integrity create a work environment that promotes employee progress and helps grow our business.
The Lawrence Group
Lawrence Group is a building design, development and project delivery firm headquartered in St. Louis with a staff of more than 170. Across our national network of operations, our firm's expertise includes architecture, interior design, urban planning, landscape architecture, real estate development, graphic design and construction management. Our mission – to help our clients realize their dreams – has been consistent for 30 years.