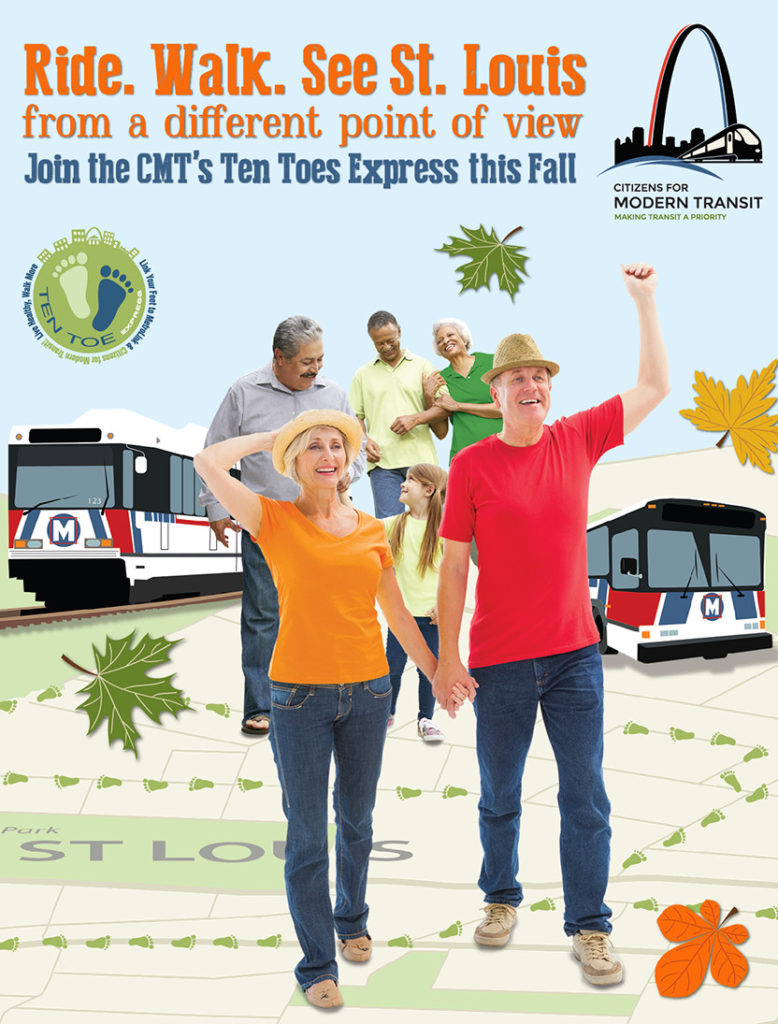 The Fall 2017 Ten Toe Express session will kick off on Thursday, September 7 with a special behind-the-scenes tour of Metro's new Civic Center Transit Center building at the Civic Center MetroLink Station. Register for the Fall 2017 session online!

CMT's Ten Toe Express program is sponsored by AARP St. Louis, and will include several AARP "Breakfast Bunch" walks on Saturday mornings to destinations like Laumier Sculpture Park (Sat., Sept. 16) and to downtown St. Louis (Sat., Nov. 18) to walk across the Eads bridge, visit the new Arch grounds and Kiener Plaza, and end with lunch at the Kaldi's coffeehouse at Citygarden.
Other special walks this session include a guided tour of Cannon Design at the old St. Louis Power House. Constructed in 1928 and designated as a landmark by the National Historic Register, the Power House stood vacant for nearly 30 years before being re-imagined as a sustainable workplace. The updated building is LEED Gold certified by the U.S. Green Building Council for its environmentally responsible design and use of resources. The tour of Cannon Design at the St. Louis Power House will occur on Thurs., September 28. Register here.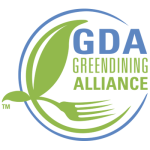 The Ten Toe Express will also be teaming up with the Green Dining Alliance (GDA) for a tour of GDA-certified restaurants and on the Delmar Loop. The Green Dining Alliance (GDA) is a restaurant sustainability certification program of St. Louis Earth Day. The GDA tour of the Delmar Loop will be on Thurs., October 19. Register here.
The Ten Toe Express is a walking program by Citizens for Modern Transit, and sponsored by AARP St. Louis, that links MetroLink & MetroBus with your own Ten Toes to explore St. Louis & step your way to a healthier you. The Ten Toe Express Program started in 2007 and has introduced more than 8,000 adults to the region's transit system and the places they can go using it. There are 7 volunteer led walking groups that go out from a specified MetroLink Station or Transit Center each week and explore the city. Each walk leader takes their own unique approach to the program, making each group distinctive, interesting, and fun. If you are interested in learning more about the walking groups, visit the Walking Group page on the Ten Toe website at www.tentoes.cmt-stl.org. You can find all special walks for the 2017 Ten Toe Express session at http://tentoes.cmt-stl.org/special-walks/.
 SPECIAL OPPORTUNITY FUND!
Want to help other people discover how easy it is to see St. Louis different via transit and the Ten Toe Express program?
Cover the session registration fee for someone who can't afford the $10 up front, and help someone else discover the joy of CMT's Ten Toe Express, sponsored by AARP!
All donations to CMT are tax deductible. Find out more here!