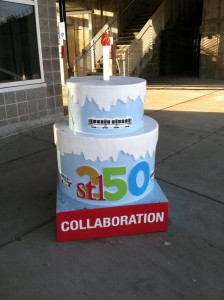 By now, you've likely seen at least one of the #STL250 Cakes that have been installed across town to help celebrate St. Louis' 250 anniversary this year.  Named Cakeway to the West, the cakes are intended to be " one part public art exhibit, one part scavenger hunt and one part history lesson – all adding up to a year's worth of fun exploring St. Louis!"
Each cake is 4 feet tall and decorated by local artists.  Two hundred of the 250 cakes were chosen by the STL250 organizers, and 50 of the locations were voted on by the public.  All 250 cakes are now on proud display and you can find the total list of locations here – http://www.stl250.org/cake-leaderboard.aspx.
You can even download a STL250 app to help inform your journey!  Developed in partnership with Candy Lab, an Arch Grants recipient company, you have an interactive mobile guide for St. Louis' 250th birthday celebration events and can use it to help you locate the cakes.
Even better yet, we want to encourage you to take transit to as many of the cakes possible!  Use the transit option on googlemaps to map your route, enjoy the journey and send us your pics along the way – pics from the train, from the bus, and by any cakes at transit locations!  See and celebrate the city with one of its most important assets – transit!  We can't wait to see your documented adventures!  Let us know how many cakes you hit on your transit cake walk!!