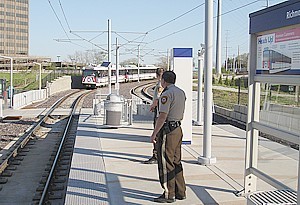 St. Louis elected officials joined forces at the CMT 33rd Annual Meeting on Sept. 13 to provide an update on the action items accomplished to date under the security Memorandum of Understanding signed in mid-May. St. Louis City Mayor Lyda Krewson, St. Clair County Board Chairman Mark Kern and St. Louis County Executive Steve Stenger, whose jurisdictions fund Bi-State Development, in addition to John Nations, CEO of Bi-State, signed a Memorandum of Understanding (MOU) outlining the plan to improve MetroLink security in cooperation with law enforcement.
The MOU demonstrates unprecedented collaboration on the part of St. Louis City, St. Louis County, St. Clair County and Bi-State. "The MOU provides accountability for each level of security and demonstrates unprecedented collaboration between our governments," said County Executive Steve Stenger. "The MOU is supported by other regional stakeholders, including the St. Louis Regional Chamber, businesses, institutions and advocates."
On Wednesday afternoon, Mayor Krewson, County Board Chairman Kern and County Executive Stenger outlined the following items completed or underway:
First, a Joint Task Force of law enforcement from the City of St. Louis, St. Clair County and St. Louis County has been formed and has been meeting over the summer.
The Commander of the St. Louis County MetroLink police unit, Captain Scott Melies, has been appointed as the task force operational commander, while Lt. John Blaskiewicz of the Metropolitan St. Louis Police Department has been named the second in command.
A new central MetroLink police facility at 5977 Delmar Boulevard is used for daily operations of the Joint Task Force.  City, St. Clair County and St. Louis County police are utilizing the new police facility.
The MOU has also created a Transit Advisory Working Group, including representatives from the Amalgamated Transit Union Local 788, Citizens for Modern Transit, SEIU Local 1, UMSL, Washington University, the St. Louis Regional Chamber and other community representatives, to give input into securing the system. The Transit Advisory Working Group has met multiple times this summer at the new MetroLink police facility. The Group is designed to hold partners accountable and ensure that the MOU is implemented cooperatively to achieve safety objectives.
A regional security audit will be underway shortly to review the entire system, including infrastructure, technology and resource deployment.
"I am hopeful that the MOU and the fact that we are talking to you today as a unified set of public servants demonstrates our commitment to the success of the system as a whole," said St. Clair County Board Chairman Kern. "The safety and operation of the Central West End Station matters to me, just as the safety of Fairview Heights matters to Steve, and the safety of 5th and Missouri matters to Lyda. We will either stand together in success, or fall apart separately."
Comments from meeting available here.