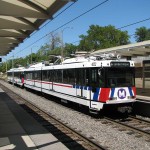 As a part of the long range transportation plan for the St. Louis region, East West Gateway is holding a 4 part speaker series called Connected 2045.  It will be a regional conversation about the future of transportation in St. Louis and will take place at the Missouri History Museum.  We hope you'll join CMT and attend these interesting programs!
Part 1 – June 18, 2014 7 PM
Back to the Future:  How St. Louis' Transportation Past Informs Our Future
Part 2 – July 31, 2015 7 PM
Transportation Shoptalk: Fueling the Future Economy
Part 3 – Sept 18, 2014 7 PM
Transportation, That Delicate Balance:  Are we ready for the next GEN?
Part 4 – Jan 22, 2015 7 PM
Planning for Uncertainty:  Paying for Our Future Transportation Needs
Learn more here.