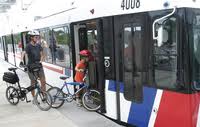 East-West Gateway has begun a process to build a list of regional transportation priorities for the region.  This process coincides with the debate going on in the MO legislature on HJR68/SJR48- the proposed one-cent general sales tax for transportation in MO.   Provisions of this bill include the development of a list of transportation projects to be funded in each area of the state.
In addition one of CMT's objectives this year is to work with area stakeholders, the metropolitan planning organization and other to create a list  of regional Transi' priorities.   CMT is working with EWG to ensure transit is a part of the list of regional transportation priorities.
Here is your chance to weigh in!  EWG has released a survey to gather baseline information on priorities for residents/constituents of the St. Louis region. The link is below. Please take a moment and stress the importance of including public transit on the list of regional priorities as a part of this survey.