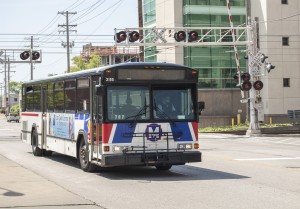 March 14 Service Change Highlights
North St. Louis County: New MetroBus Service Plan
The North County Transit Center will open for service on Monday, March 14. This new transit hub, located at 3140 Pershall Road, allows Metro to operate a new and completely redesigned MetroBus service plan for North St. Louis County, which includes the introduction of nine new MetroBus routes.
Downtown St. Louis: #99 Downtown Trolley
The #99 Downtown Trolley MetroBus route will be expanded to serve more businesses and attractions in downtown St. Louis, including St. Louis Union Station, Harris-Stowe University and the corporate headquarters of Wells Fargo Advisors and Sigma-Aldrich. The route will be extended to operate west on Market Street to Compton Avenue and Spruce Street during the day on weekdays, replacing service previously provided by the #4 Natural Bridge and downtown express routes.
West St. Louis County: New Service to St. Louis Community College – Wildwood Campus
Metro will extend the #57 Maplewood-Wildwood MetroBus route to begin serving the St. Louis Community College-Wildwood Campus at Route 109 and New College Avenue. Service to the Wildwood Campus will operate every 30 minutes during rush hour and operate hourly during the mid-day and evening, Monday through Friday from 6:28 a.m. to 10:51 p.m.
New MetroBus Routes
#37 Hanley-Graham
#38 Hazelwood
#39 Berkeley-Florissant
#47 Clayton-NCTC
#71 Parker
#72 Monarch
#76 Waterford
#78 Larimore
#79 Ferguson
Discontinued MetroBus Routes
#27 North County Shuttle
#36 Spanish Lake
#44 Hazelwood
#45 Ferguson-Florissant
#47 Hanley
#75 Lilac-Hanley
#158 Ballas-West County
#36X Bissell Hills Express
Renamed MetroBus Routes
#15 Belleville-Shiloh/O'Fallon (IL)
#58 Clayton-West County
#174 North Express
MetroLink schedules will not be impacted by the March 14 quarterly service change.
For More Information
More information about the March 14 Service Change, including new MetroBus schedules, maps and route details, is available at metrostlouis.org or by contacting Metro Transit Information at 314-231-2345 or 618-271-2345, Monday-Friday, from 7:30 a.m. to 4:30 p.m.