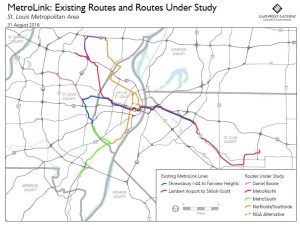 The team led by WSP-Parsons Brinckerhoff was selected as the consultant for the Metrolink Preliminary Conceptual Study in St. Louis County. St. Louis County is in the process of initiating the scope and fee negotiation process with the consultant. The County's goal is to be underway with the study by July 1st. The team consists of :
WSP Parsons Brinckerhoff
AECOM
Kivindyo Engineering
Vector Communications
M3
RSG
David Mason & Associates
The study will examine three corridors in St. Louis County – including the portion of the Northside/Southside Corridor that falls within the County's boundaries – with the technical support of the East-West Gateway Council of Governments.
The 12 month study will examine MetroNorth – which was expanded in November to include the northern portion of the original Northside/Southside corridor not included in the City study, and the area west to the MetroNorth corridor including Ferguson; Daniel Boone – west from Clayton to Westport; and MetroSouth – south from Shrewsbury to I-55 and following I-55 down to Butler Hill.  The MetroNorth expanded route falls within the St. Louis Promise Zone, as does most of the Northside/Southside route falling north of Downtown.  HUD awarded nearly a $30 million Choice Neighborhood grant to redevelop the near-North Side neighborhoods.
MetroNorth – Preliminary studies on this corridor go back to 1995. This corridor will undergo a feasibility study as a part of the RFQ process. Route examined under RFQ: original MetroNorth Corridor from at/near North Hanley Station up to close to I-270, as well as expanding that route along 270 east to the northernmost portion of the Northside/Southside route down to the City border at Goodfellow and I-70. This area will traverse Ferguson and the area designated the Promise Zone.
Daniel Boone – Route examined under RFQ:  specific route has already been identified in previous study. RFQ will collect further information.
MetroSouth – Environmental impact study done in 2005, supported from then County Executive Charlie Dooley and Congressman Gephardt. Route examined under RFQ:  specific MetroSouth route already identified in previous study, and original section of Northside/Southside extending south beyond Bayless at I-55 down to Butler Hill at I-55. RFQ will collect further information.
A consulting team led by AECOM is actively looking at the Northside/Southside Study in the City of St. Louis.  This 18 month study  began in January and is examining a portion of the route known as the Northside/Southside that runs through Downtown St. Louis, extends north along 14th Street, North Florissant, and Natural Bridge to near I-70 at Goodfellow Boulevard, and from Downtown south along Jefferson Avenue slightly past the City limits to Bayless Road at I-55. The study will also identify and analyze an alternative to the Northside Locally Preferred Alternative alignment that would serve the new NGA site.
Both studies are projected to wrap up in the summer of 2018. The East-West Gateway Board of Directors determines the priority transit projects for the region to move forward.