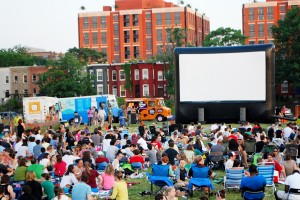 Every region of the United States faces community revitalization challenges.  Many readers of the Community Builders Exchange lead these efforts in St. Louis.  As someone interested in your work, I often think about how infrastructure influences the health and well-being of the underserved in our region.  How can a community use what it has to get what it needs?
We are familiar with our large-scale assets, including the river, our central location, a relatively low cost of living, a thriving sports franchise, several top corporations, an airport, and Metro system that services 97% of jobs in St. Louis City and County.  But how might you, our community builders, leverage these assets to revitalize your own community?  I propose looking carefully at the development potential around transit stations as a start.
I lived in the St. Louis area for several years after college and recently returned from Washington, DC.  There was a lot to love (and hate) about DC, but my favorite things included beautiful buildings, museums, interesting people, restaurants, and most of all, the city's transit system and walkability.  I walked and took transit everywhere.  The system is integral to the region, but DC was recently re-reminded of its economic impact.
In 2002, I lived outside Washington's China Town before it became the hot spot it is today.  At that time my neighborhood was a low-income, underserved community marked by poverty, crime, drugs, and violence.  I passed littered streets, run-down houses, a corner market with bars on the window and people with brown bags standing in doorways.  Other sections of the area were marked by "abandoned warehouses, windswept parking lots, vacant properties, and a methadone clinic[1]." (Sound similar to any St. Louis neighborhoods?)  I would not walk the area at night if I could avoid it.
Unknown to me, I was walking through what is now the neighborhood phenomena called NoMa, the North of Massachusetts Avenue.  Rachel MacCleery from Urban Land calls the area, "The Neighborhood that Transit Built," because today that same neighborhood is a different place following the opening of a transit station in 2004.
Since the station's opening, the neighborhood has added 7,000,000 square feet of development space with another 3,000,000 in construction.[2]  Walking there today, I would pass a Harris Teeter supermarket, two hotels, a variety of restaurants and apartment and condo buildings.  Large organizations have taken advantage of the new location, including NPR's national headquarters and the Bureau of Alcohol, Tobacco, Firearms, and Explosives.  The Business Improvement District estimates that the station has catalyzed $3 billion in private investment and jobs for more than 40,000 people, with room to grow.  Additionally, NoMa now generates more than $60 million in city taxes annually and has directly contributed to the District's financial recovery.[3]
Why does the incredible revitalization of this DC neighborhood matter to us?  It matters because its success illustrates the economic impact a transit station can have on a community and St. Louis has 37 stations with underutilized development possibilities.
Imagine a Movie theater, community center, restaurants, shops, and integrated, affordably priced housing around the Rock Road station.  Imagine walking along well-lit sidewalks with interesting store fronts and restaurants throughout the entire downtown area.  Imagine our favorite neighborhoods – Tower Grove, Maplewood, the Loop, Webster Groves, Grand Center etc. – extending to the stations that serve these neighborhoods.  The possibilities exist, and now is the time to leverage our system and embrace its development potential.
St. Louis doesn't want to be DC, and St. Louis' Transit Oriented Development (TOD) will be different.  However, with 37 stations, why couldn't we improve communities throughout the entire region with development around our transit stops?  Keeping gentrification in mind (and possible displacement of low-income renters), what if your communities were the ones who created the vision, drafted the plans, and helped to bring people and resources on board?  Who would you engage to shape economic development AND build affordable, walkable, safe, vibrant, and healthy communities?  Let's think about St. Louis-style TOD that benefits our entire community and show the rest of the country how it's done.
Op Ed Originally featured in "From the Field" on the Community Builders Network – http://www.communitybuildersstl.org/index.php/could-transit-be-a-catalyst-for-community-building-in-st-louis/