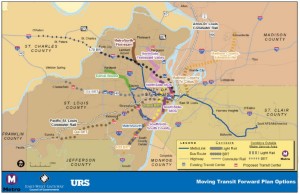 In May 2015, St. Louis County Executive Stenger authorized an initial $1 million to study MetroLink expansion in St. Louis County. Last week, he announced the County would be pursuing feasibility studies on three different corridors, some proposed more than 20 years ago. His announcement named three corridors to be studied: the "Daniel Boone" from Clayton to West Port; "MetroNorth" from around North Hanley MetroLink Station to Ferguson; and "MetroSouth," from Shrewsbury to Butler Hill Road.
In May of this year, St. Louis City Mayor Slay announced via Twitter that he planned to make North-South MetroLink expansion a top priority in his 16th and last year as Mayor of St. Louis City.

Slay's office then announced a conceptual design study to be conducted by the East-West Gateway Council of Governments on the City portion of the Northside-Southside extension which was proposed and studied as far back as 2000. Treasurer Tishaura Jones' office committed the $2 million to cover that study's cost.
Each of these announced expansion studies will examine a particular corridor and will be used to determine what is the most feasible route for a light rail expansion within that corridor, given various factors such as housing density, existing right of way, job centers, potential for development, need for transit among current residents, etc.
CMT is thrilled that both the City and the County are pursuing next steps for MetroLink expansion, but there have been questions over the need for additional studies. The reality is that no matter what corridor arises as our regional transit priority(ies), updated studies must be done in order for our region to be able to secure Federal funding for the project. The City portion of the Northside-Southside corridor has been studied in more detail than any other proposed route, but the most recent studies on some of the other corridors are more than 20 years old. Current data on all of the routes are out of date, and the FTA is very unlikely to fund a project with data this old. All routes will need to be updated. For example, no existing draft route serves the new NGA site – the Northside-Southside extension comes closest, but the proposed route would need to be altered to serve the new location of NGA, and this requires further study.
CMT also notes that the East- West Gateway Board of Directors has not yet endorsed any route among those identified in the region's long-range transportation plan as the next regional transit priority project.  The Northside-Southside, the MetroNorth, Daniel Boone and MetroSouth corridors have all been identified as 'illustrative' projects for the region by the East-West Gateway Board – meaning all are priority projects yet none have funding designated toward them at the time. In the Connected 2045 report, East-West Gateway identified the Northside-Southside alignment as a Tier 1 Illustrative Project, as it has been studied to a higher level through the Alternative Analysis phase than other projects. The other three possible alignments are identified in the same report as Tier II projects due to the fact they have been studied less since the corridors were identified.
Clearly, transit expansion requires significant investments and does not happen overnight. We have identified public transit service needs for our community and while determining priority routes is an important next step, it also is incumbent that we find funding sources to meet those needs.