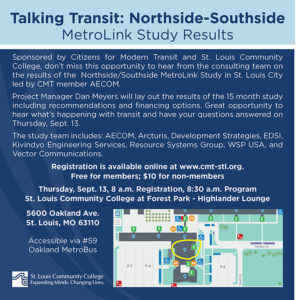 Sponsored by Citizens for Modern Transit and St. Louis Community College,
don't miss this opportunity to hear from the consulting team on the results of the  Northside/Southside MetroLink Study in St. Louis City led by CMT member AECOM.
Project Manager Dan Meyers will lay out the results of the 15 month study including recommendations and financing options. Great opportunity to hear what's happening with transit and have your questions answered on Thursday, Sept. 13.
The study team includes: AECOM, Arcturis, Development Strategies, EDSI, Kivindyo Engineering Services, Resource Systems Group, WSP USA, and Vector Communications.
Registration is available here. Free for members; $10 for non-members
For non-members that would like to attend but have personal financial constraints, CMT offers a limited number of scholarships for each of the Talking Transit education series. If you are interested in a scholarship, please send an email to info@cmt-stl.org.
Thursday, Sept. 13, 8 a.m. Registration
8:30 a.m. Program
St. Louis Community College at Forest Park
Café East, SC-031

Accessible via #59 Oakland MetroBus