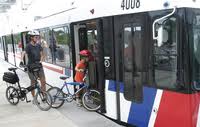 MetroBus Routes Will Relocate on April 18, MetroLink Station to Remain Open During Construction
Bi-State Development is finalizing the agreement with the general contractor who will lead the expansion project for one of their busiest Metro transit hubs — the Civic Center Transit Center which is located at 14th and Spruce in downtown St. Louis.  To kick off this important project, a special groundbreaking event will take place on Tuesday, April 19  at the Civic Center Transit Center.
Construction will get underway shortly and it is anticipated to take between 14 months and 18 months to complete. In order to accommodate the construction crews, all MetroBus routes serving the Civic Center Transit Center will be relocated starting Monday, April 18, to Clark Avenue near the Union Station MetroLink Station. MetroBus riders will access MetroBus routes at designated locations on Clark Avenue and on 18th Street near Union Station.
Eighteen MetroBus routes will be relocated from the Civic Center Transit Center, including:
#4 Natural Bridge
#8 Bates-Morganford
#10 Gravois-Lindell
#11 Chippewa
#30 Soulard
#32 ML King-Chouteau
#41 Lee
#73 Carondelet
#74 Florissant
#78 Larimore
#80 Park-Shaw
#94 Page
#97 Delmar
#99 Downtown Trolley
#40X I-55 Express
#58X Twin Oaks Express
#174X North Express
#410X Eureka Express
New shelters, benches and signage have been installed near Union Station to better serve passengers.
Metro has every intention of keeping the Civic Center MetroLink Station open during the construction process, but temporary station closures may be necessary during the project. In those instances, MetroLink riders and the public will receive advance notice according to Metro about the planned station closures and about MetroLink Station Shuttle service.
The expansion of the transit center will help ensure better timed connections between the MetroBus routes and will include the construction of 18 bus bays, two Call-A-Ride bays, space for 60-foot articulated buses and electric buses. A new building will be constructed on the site to provide an indoor, climate-controlled customer waiting area with public restrooms, a Metro security office, digital transit bus arrival boards, and a concession area. 
 If you have questions or need more information, email Metro at transitprojects@metrostlouis.org or leave a message at 314-982-1599. Information is also available on our website – metrostlouis.org.