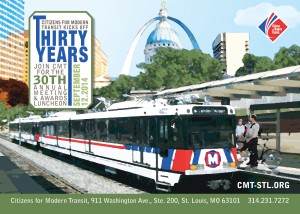 Almost three decades ago Citizens for Modern Transit (CMT) began its mission to introduce MetroLink to the St. Louis metropolitan area. Since its opening in 1993, ridership has exceeded expectations with an average of 60,000 people choosing MetroLink each day during summer months. What's more, because of MetroLink integration with the bus system, St. Louisans once again have a public transit system competitive with automobile travel.  We have two weeks left in our fiscal year, and I hope you will consider joining us or renewing your membership today to help make transit a priority. You can join/renew online today at https://cmt-stl.org/join-cmt/.
CMT members have played key roles in bringing light rail to St. Louis and passing funding measures for the expansion of MetroLink and other transportation improvements in the region. CMT took the risk in 2014 to secure funding to do a feasibility study to explore the possibility of adding a new light rail station in the Midtown/CORTEX area of St. Louis when no one else was stepping up to the plate. The study was recently presented to the public, and Citizens for Modern Transit continues to be among those taking the lead to bring the first addition to MetroLink since the opening of the Cross County Extension in 2006 to fruition. Our mission does not stop here but reaches far beyond the scope of the MetroLink expansion debate to rebuilding the St. Louis City, County, and Illinois neighborhoods by investing in rail transit. Rail transit is not just a way to move from point A to B but a means to energize and revitalize existing communities.
Recent CMT transit oriented development efforts include the passage of form-based overlay zoning in Pagedale, the formation of 353 around the UMSL South Station, an RFP for development at the Belleville Station and the first draft of overlay zoning at Grand Station. CMT's work includes community programs that help raise awareness about the benefits of transit, while increasing ridership. This includes, but is not limited to, the Ten Toe Program, which has more than 7,500 older adult participants who link walking and transit to exciting destinations; the Guaranteed Ride Home, an incentive based program with 10,000+ registrants, to provide a free car ride home for transit, bike and walk commuters in the event of an emergency; the newly established Try & Ride program, an enticement program including personalized transit package with tickets for new riders to get on board transit; and The Great Race, an initiative designed to play off the CBS television hit "The Amazing Race" with Team Transit, Team Bike, Team Carshare and Team Carpool.
With more than 1,000 individual, organizational, and corporate members, CMT continues to advocate and work for the best transit system for the region and looks to the future for increased transit. Join CMT today and show your support for transit! Help us meet our FY14 membership goal by joining/renewing by Aug. 31, 2014.   https://cmt-stl.org/join-cmt/