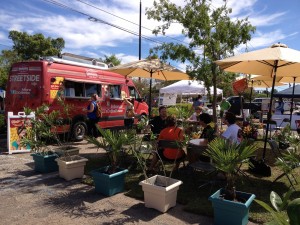 Get excited about CMT's Great Race III and Metro Market on Thursday, May 8 that will kick off at 4:30 p.m. at the Fortel's Pizza Den, located at 7359 Forsyth Blvd., St. Louis, MO 63105 with a Finish Line celebration at CMT's the Metro Market located at the Shrewsbury MetroLink Station from 5 to 7 p.m. Local media celebrities participating on the teams so far include:
Diana Zoga (Ch. 4)
Angela Hutti (FOX 2)
Kevin the Intern (Y98)
Todd Morgan (KHITS 96)
Riz and Tony Patrico (105.7 The Point)
Jean Ponzi (KDHX and KTRS)
Jade Harrell (Magic 100.3)
Don Corrigan (Webster-Kirkwood Times)
Thanks to the sponsors for this event including  Enterprise Rent-A-Car, Great Rivers Greenway, and the Missouri Foundation for Health, STL-Style, St. Clair County Transit District, Ridefinders and the Fortel's Pizza Den in University City/Clayton.
Designed to play off the CBS television hit, "The Amazing Race," the CMT's Great Race will place Team TRANSIT, Team BIKE, Team CARSHARE, and Team CARPOOL in a head-to-head competition to see which transportation mode can travel from Clayton to the Shrewsbury MetroLink Station the fastest.
Please also bring your friends and families out to the Metro Market at the Finish Line of the Great Race for a fun, community Celebration!

The Metro Market will be a live visioning session that will model what a thriving and walkable development could be around transit.  We will do this by organizing fun, food, retail and more at the station and have already lined up a great list of participants that we are excited to share with you below!  It's going to be a ton of fun and an important event for the region and transit that you won't want to miss!
Sponsorship Opportunities Still Available!
Destination Desserts
Destination Desserts is dedicated to support and better the lives of their employees with brain injuries and other cognitive learning challenges while creating and servicing some of the best desserts and confections available. CMT staffers are big fans – you must stop by and try!
http://destinationdesserts.org/
https://www.facebook.com/DestinationDesserts
Taco Truck STL
Tomas Pedro and Gerardo Fuentes founded their food truck's partnership on October of 2011. The truck was originally named "El Gran Taco" but started to get known as "The Taco Truck."  With the help of his family, Tomas Pedro was able to establish his own food truck in May of 2013.
Taco Truck STL's goal is to bring authentic Mexican food to the surroundings of St. Louis.
Rack + Clutch
Rack + Clutch is a mobile boutique that brings an ultra-hip, hard-to-find collection of jewelry, accessories, handbags, scarves and clothing to the streets of St. Louis and its surrounding cities! The carefully curated selection of items (all for under $100) from independent and hand-made designers combined with each season's biggest trends from our favorite collections makes for an unparalleled shopping experience! We are out and about on the streets of the city 5 days a week at local events and places of business.
www.facebook.com/pages/Rack-Clutch/206922532751492
https://twitter.com/RackandClutch?original_referer=http%3A%2F%2Frackandclutch.com%2Fcontact%2F&profile_id=849654588&tw_i=441212677483134976&tw_p=embeddedtimeline&tw_w=370658498721222656
2girls 4wheels
We are two hometown girls serving our beloved city our take on St. Louis style cuisine.  We want locals and visitors to feel invited when they see us and we feel our truck will contribute to the energy this great city already has to offer.  2girls 4wheels is our mobile creation, and serving gateway grub while showing St. Louis love is what we stand for.
https://twitter.com/2girls4wheels
https://www.facebook.com/pages/2-Girls-4-Wheels/152610938163728
Anita Rosamond Band
Vocalist/pianist Anita Rosamond has earned critical and popular acclaim as one of the most exciting performers on the scene.  Based in St. Louis, Anita's band has toured throughout the region and is known for their performances at nationally known venues such as the Pageant and the Sheldon Concert Hall and at major events like the Whitaker Music Festival/Missouri Botanical Gardens, the Midwest Salute to the Arts, Saint Louis Art Fair, St. Louis Jazz & Heritage Festival, and the KMOX Jazz & Wine Festival.  From intimate settings to ballrooms, concert halls and outdoor festivals and fairs, the Anita Rosamond Band captures their audience not only with amazing musical talents, but also their charisma, excitement and winning personalities.
https://www.facebook.com/pages/Anita-Rosamond/174867208697
MySci Investigation Station
The MySci Investigation Station is a roving vehicle of innovative, hands-on exhibits and specimens that makes science learning fun, and much more.  Sponsored by Monsanto and Washington University's Institute for School Partnership, it's an interactive learning experience for the whole family.
http://schoolpartnership.wustl.edu/programs-services/mysci/investigation-station/
Transit and Trails
Metro Market will be a great opportunity to check out the new Great Rivers Greenway trail along River Des Peres – great multi-modal connection at the Shrewsbury MetroLink Station. www.greatriversgreenway.org
Arrive by train, bus, bike or walking and help us celebrate the possibilities of Transit in St. Louis!