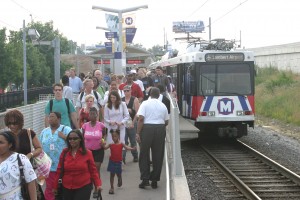 In the last five years, transit use has increased faster than any other mode of transportation, yet many St. Louisans still shy away from it because of the fear of the unknown. To combat this issue, Citizens for Modern Transit (CMT) is hosting a "Commuter Happy Hour" event in partnership with the St. CLair County Transit District to reinforce the system's ease of usability and benefits.
All area residents, including longtime MetroLink and MetroBus users and potential new riders, are invited to stop by the Belleville MetroLink Station, located at 718 Scheel Street, Belleville, IL 62220, on Thursday, October 17 anytime between 4 and 6 pm for the fun-filled, evening rush event.
Taking transit really is as easy as 1, 2, 3. You select your route, purchase your fare and sit back and relax. The system is very user-friendly. We find that after individuals try transit for the first time, they are more eager to use it for their workday commutes, and to get to and from ball games, concerts and doctors appointments and to run errands.
The "Commuter Happy Hour" event will feature food, games, music courtesy of Y98, information about Enterprise Rent-A-Car's CarShare Program,transit benefit information and the opportunity to register for CMT's Guaranteed Ride Home program, which is a free incentive that serves as a safety net for those who take transit, bike or walk to work by providing an assured and immediate ride home in case an emergency situation arises.  Commuters who stop by for five minutes will reap the extra rewards of using transit.