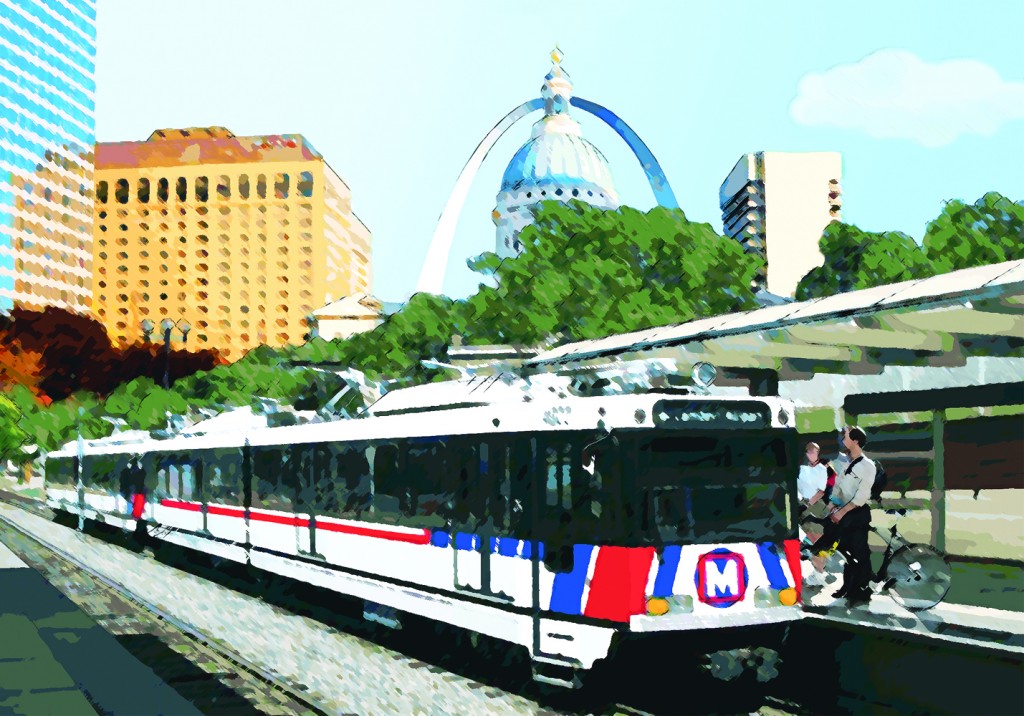 CMT wraps up its fiscal year on a high for transit with a potential new light rail station on the MetroLink alignment in the future, its upcoming SOLD OUT Annual Meeting on Sept. 12; record numbers of St. Louisans getting on board to try transit for the first time;  and surpassing our membership goal for FY14 by more than 5 percent. Thank you to all our members, partners and volunteers for making this possible!
Citizens for Modern Transit (CMT) made great strides in Fiscal Year 2014 to move transit forward in the region. This included leading a feasibility study for a possible new station on the light rail system in the Central Corridor, launching a new ridership enticement program and passing form-based overlay zoning around transit.  FY14 was also a year to celebrate MetroLink's ability to connect record numbers of riders from Point A to Point B and CMT's proactive efforts to help foster healthier communities, economic development opportunities, and increased access/ independence.
Citizens for Modern advanced Transit-Oriented Development by working with community partners to establish the needed tools and resources to entice development around the light rail system. More specifically,  efforts have included the passage of form-based overlay zoning in the City of Pagedale around light rail, the formation of 353 around the UMSL South Station, an RFP for development at the Belleville Station and the first draft of overlay zoning at Grand Station.  In addition, CMT released real estate spec sheets for the 37 stations along the alignment in partnership with Metro's Economic Development department.
This year CMT's community programs  raised awareness about the benefits of transit, while increasing ridership.  The Ten Toe Express Program, which has had more than 7,400 active older adult participants to date, enables seniors to better familiarize themselves with the system by providing guided walking tours around the St. Louis region in an effort to link healthy living and transit.   The Guaranteed Ride Home, established in 1996, is an incentive based program with 10,000+ registrants and provides a free car ride home for transit, bike and walk commuters in the event of an emergency.  The Great Race, designed to play off the CBS television hit "The Amazing Race," places local media personalities and other influentials on Team Transit, Team Bike, Team Carshare and Team Carpool to see which viable transportation option can travel from Point A to Point B the fastest during the evening rush.  This year CMT launched the Try & Ride Program, a new ridership enticement program, to introduce St. Louisans to transit.  This program kicked off on June 16 with a  goal of 750 participants after 2 years.  After 2 and half months, more than 500 new riders are now on board and giving transit at try.
The region came together with a priority list of transit projects in 2014 including light rail, streetcars and bus rapid transit. In addition, the Missouri legislature moved a historic bill forward with the passage of HJR 68.   While Amendment 7 was not successful at the polls on August 5, voters had the opportunity to vote on a total transportation funding package for the first time in Missouri history.  CMT will now look towards the next legislative session to continue to advocate and strategize for a state funding mechanism for public transit.
CMT members recognize the fundamental importance of a good public transportation system to a stronger economy, more vibrant neighborhoods and more jobs.  Yet, we know we still have a long way to go toward the building of more livable, walkable and sustainable communities around our system. There is significant development potential around our existing 37 stations.  There is opportunity for more and better service in the region.   Two key areas CMT and the region must address moving forward are a funding mechanism, whether local or state, for public transit and a regional plan for expansion, including possible incremental build-outs of transit.  CMT will kick these efforts off at its Annual Meeting on Sept. 12 by asking our regional leaders to discuss their vision for transit in the future.
Also check out our calendar of events for the next year celebrating 30 years of transit advocacy in St. Louis, recognizing our members and providing a vision for the future of an integrated, expanded system in the region.
Again, special thanks to our members and volunteers who make all of our work possible throughout the year.   We could not do any of this without your support.  Now is the time to invest in transit. Join CMT, and get on board!
Kimberly M. Cella
CMT Executive Director