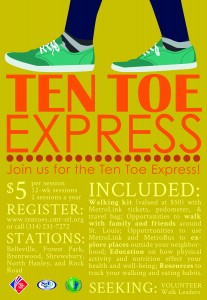 CMT's grants and program manager, Lenora Fisher, will presenting to the OACAP open meeting on Wednesday, March 26 at 11:00 am and you are invited to attend.  She will present on "Exploring St. Louis through Transit and your Own Ten Toes" at the Crown Center for Senior Living/Weinberg Lounge.  The Crown Center is located at 8350 Delcrest Drive.
Lenora will introduce the Ten Toe Express Walking program, a program that links MetroLink & MetroBus with increased activity levels and city exploration. The program has been in existence since 2007 and has attracted more than 7,000 participants since its inception. Come learn about the program, its benefits, and how you and other interested participants can get involved!
OACAP IS A PROGRAM OF THE NATIONAL COUNCIL OF JEWISH WOMEN-ST. LOUIS SECTION. ALL MEMBERS OF OACAP, NCJW, AND THE GENERAL PUBLIC ARE INVITED. LIGHT REFRESHMENTS WILL BE SERVED.
For more information or to RSVP, email oacapstl@gmail.com.