Feasibility Study Findings to be Shared with the Community on March 27 in the CORTEX District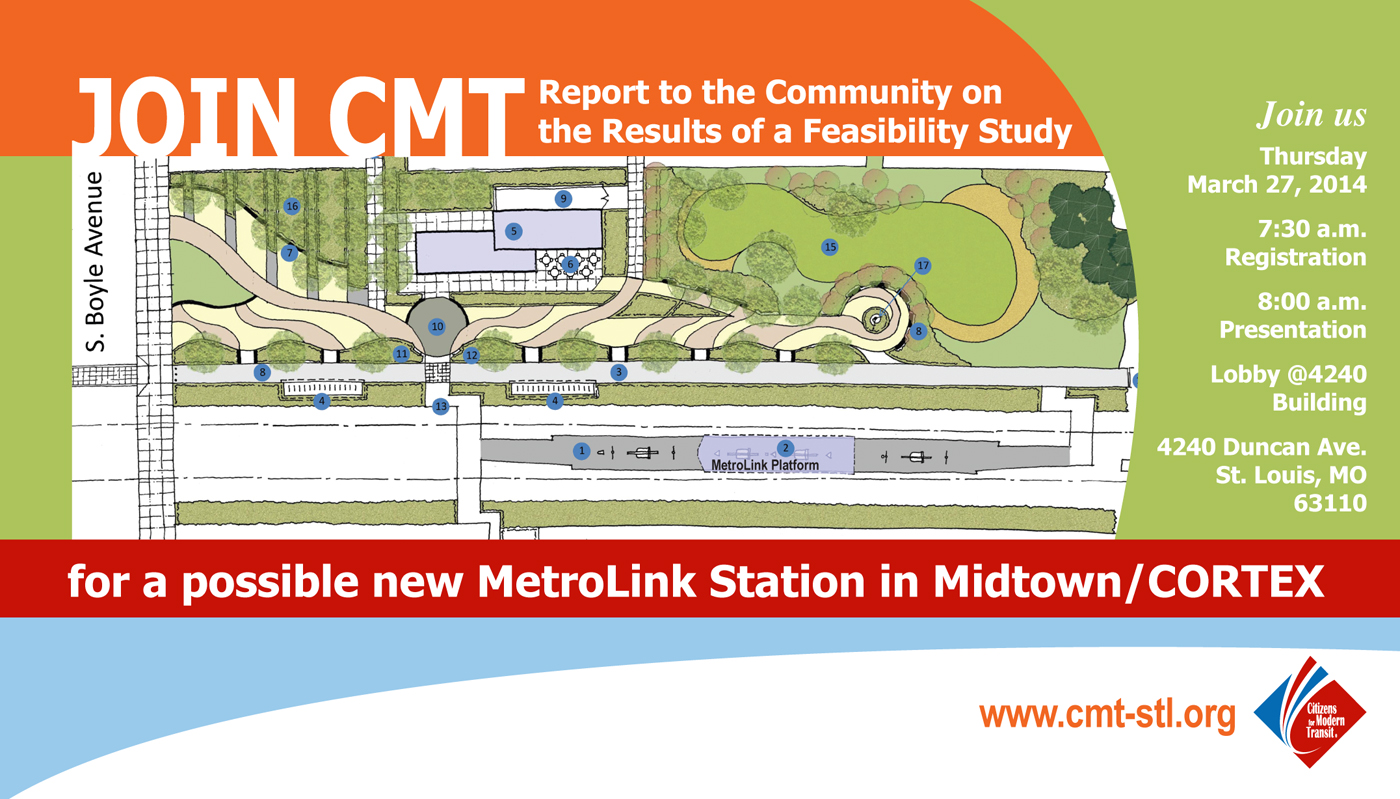 Citizens for Modern Transit (CMT) will host a discussion to explore the possibility of adding a new light rail station in Midtown/CORTEX to the current MetroLink system.  The event is slated for 8 a.m. on Thursday, March 27 at the @4240 Building, located at 4240 Duncan Ave., in the CORTEX complex. The results of CMT's Feasibility Study will be announced.
This study potentially represents the first addition to the St. Louis MetroLink System since the opening of the Cross County Extension in 2006.   This is the first study led by CMT to move light rail expansion forward in the region. CMT organized this study to be a true public-private partnership in the region by working with stakeholders to raise the local match required to pay for the study and teaming   with Metro to manage the project and move it forward.
"For several years, we have been touting the benefits of building and living near light rail," commented Kim Cella, executive director of Citizens for Modern Transit. "This study is interesting in that it showcases development is coming, and one of the reasons it's headed this way– is the idea of a multi-modal, bio-medical hub for the region with a light rail station at its core.  Stakeholders are asking for MetroLink. It's very refreshing to have the development community, and some of the region's largest employers, out front seeking MetroLink."
The program will include a presentation by the consulting team led by Bernardin, Lochmueller & Associates, followed by a panel discussion including Hank Webber, Executive Vice Chancellor for Administration at Washington University; Greg Patterson, Vice President, Facilities & Support Services, BJC HealthCare Systems; Dennis Lower, President & CEO with CORTEX, and a representative from Metro.
Registration starts at 7:30 a.m., followed by official program at 8 a. m. Registration is is $10 for CMT members and $20 for non-members.
To learn more about Citizens for Modern Transit, find CMT on Facebook or follow them on Twitter @cmt_stl.