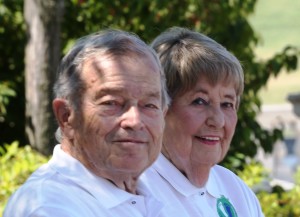 The St. Andrew's Resources for Seniors System today announced the inspiring honorees that will be recognized at its 15th annual Ageless Remarkable St. Louisans' Gala, celebrating the outstanding achievements of dynamic older adults age 75+ including CMT Ten Toe Walk Leaders Norm and Joan Krumrey.   Scheduled for Saturday, Oct. 28, 2017, at the Hyatt Regency St. Louis at The Arch, the event will highlight the contributions of 22 extraordinary seniors who provide a uniquely fresh perspective on what it means to grow older. These individuals are dedicating their golden years to bettering the region through continuing careers, advocating for issues that are close to their heart and volunteering their time and talents to a range of important charitable initiatives. The memorable evening will feature dinner; entertainment by Fanfare, featuring Kittie Moller, and a repeat performance by St. Louis Public Radio's Don Marsh as emcee.
Joan Krumrey, 83, & Norman Krumrey, 85, have been married for 59 years and raised five children while both juggled successful careers. Kicking back and relaxing was never an option for this ageless couple when they finally retired several years ago. On any given day, you'll find them working the information desk in Forest Park, interpreting exhibits at the History Museum, greeting out-of-town visitors at Busch Stadium, or washing laundry at the Room at The Inn. They also lead a walking group with the Ten Toes Express, a program of Citizens for Modern Transit that introduces seniors to the region's transit system and the places they can go using it, helping fellow seniors to step their way to better health. They research and pick walk destinations and routes, organize interesting presentations, and lead 24 groups each year.
"Congrats to Norm and Joan.  CMT is so lucky to have volunteers like Norm and Joan Krumrey on our team.  They are truly making a difference in St. Louis by helping others learn how to use the transit system through a fun, interactive way in the Ten Toe Express. Norm and Joan's contributions to the CMT program and the region are priceless," said Kim Cella, executive director of CMT.
The complete list of extraordinary seniors who will be recognized at this year's gala includes:
Dr. Jack Batten
Judith Ann Bell, FSM
Judy Bentley
Don Carlson
Will and Hellen Carpenter
Louis D. Cohen
Arthur H. Gale, M.D.
Barbara Gehringer
Raymond Hoffstetter
Ira J. Kodner
Joan and Norman Krumrey
Ernest Theodore Kretschmar
Judy Luepke
Arthur J. McDonnell
Henrietta Parram
Judith L. Roberts
Earl Robert Schultz, M.D.
William Siedhoff
Robert Snyder
Bernice Thompson