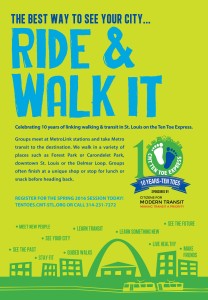 In 10 years, more than 8,000 area residents have collectively trekked thousands of miles exploring the St. Louis region through more than 1,200 guided tours that integrate walking with public transit use. This has been accomplished through Citizens for Modern Transit's Ten Toe Express Walk Program. Created to inspire St. Louis area seniors, as well as any other interested individuals, to see how easy it is to integrate walking with public transit use to get around town, the Ten Toe Express Walk Program also promotes the health and well-being benefits of transit commuting. The spring session gets underway on Thursday, April 7. To register, visit www.tentoes.cmt-stl.org or call (314) 231-7272. The first 200 registrants will receive a Ten Toe Express 10th Anniversary hat.
The 12-week spring session will run from April to June. Ten Toe participants gain access to a variety of helpful resources including walk maps providing detailed directives on how to utilize transit to get to many of the region's cultural and entertainment hot spots. Participants also have the ability to take part in weekly guided Ten Toe Express Walking Tours which allow walkers to be part of a group as they become familiar with the transit system and how to utilize it to get to destinations. These walks, led by trained, volunteer walk leaders, range in length from 0.3 to 5 miles depending on the group and destination and originate from the Brentwood, Forest Park, Belleville, Rock Road, North Hanley and Shrewsbury MetroLink stations. Citizens for Modern Transit also hosts several special walks each session.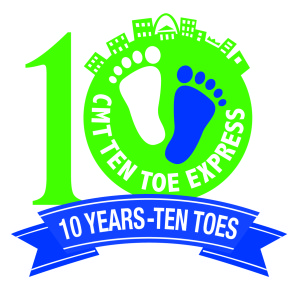 "The Ten Toe Express Walk Program is one that has taught me a lot about living in St. Louis and what it has to offer," said Ann LaBeau, Ten Toe Express Walk Program participant. "Although I grew up in St. Louis County, a visit to the city was rare. I joined the group trying to prepare and become comfortable with using public transportation, knowing that eventually I would have to give up driving. Now, I am capable of using Metro transit and I am happy knowing that when the time comes to give up my keys, there is another choice for me."
Longtime walk leader, Dan O'Connor, also commented on what the program means to him, "My original goal was to promote the use of transit and exercise," he said. "It has turned out to be such a social connection for people. Participants build friendships and relationships through this program. They really look forward to the walks, which makes it so satisfying for me to be a walk leader."
The cost to participate is $10. New registrants receive a walking kit (valued at $50) with a pedometer, weekly walk logs, transit tickets, St. Louis maps, safety tips and a Ten Toe tote bag to hold it all. For additional information about the Ten Toe Express Walk Program, visit www.tentoes.cmt-stl.org. To learn more about Citizens for Modern Transit call (314) 231-7272, find them on Facebook or follow them on Twitter @cmt_stl.
Citizens for Modern Transit is a nonprofit, member supported organization that leads efforts for an integrated, affordable, and convenient public transportation system with light rail expansion as the critical component that will drive economic growth to improve quality of life in the St. Louis region.